QuickBooks 2014 For Dummies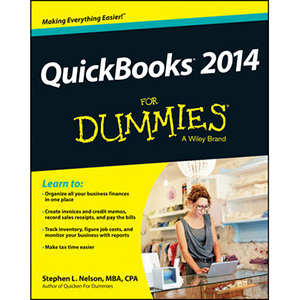 Take control of the books and keep your finances in the black with QuickBooks and For Dummies
With over four million of his books in print, CPA and perennial bestselling For Dummies author Stephen L. Nelson knows how to make QuickBooks and basic accounting easy for the rest of us. Small business owners, managers, and employees: if you want to use QuickBooks for your business, the new edition of this annual bestseller is the best place to start. From setting up the software to creating invoices, recording and paying bills, tracking inventory, getting reports, and crunching numbers for tax prep, you'll discover how to do it, why to do it, and get way more organized in the process.
Gives small business owners the power to manage their own business accounting and financial management tasks using QuickBooks 2014
Helps you build the perfect budget, process payroll, create invoices, manage inventory, track costs, generate financial reports, balance accounts, and simplify your tax return prep
Walks you through basic bookkeeping concepts, data management fundamentals, and need-to-know accounting guidelines to help you track your finances with ease
Keep your business finances on track, on budget, and in control with QuickBooks 2014 and QuickBooks 2014 For Dummies.
Table of Contents
Part I: Quickly into QuickBooks
Chapter 1. QuickBooks. The Heart of Your Business
Chapter 2. The Big Setup
Chapter 3. Populating QuickBooks Lists
Part II: Daily Entry Tasks
Chapter 4. Creating Invoices and Credit Memos
Chapter 5. Reeling In the Dough
Chapter 6. Paying the Bills
Chapter 7. Inventory Magic
Chapter 8. Keeping Your Checkbook
Chapter 9. Paying with Plastic
Part III: Stuff You Do from Time to Time
Chapter 10. Printing Checks
Chapter 11. Payroll
Chapter 12. Building the Perfect Budget
Chapter 13. Online with QuickBooks
Part IV: Housekeeping Chores
Chapter 14. The Balancing Act
Chapter 15. Reporting on the State of Affairs
Chapter 16. Job Estimating, Billing, and Tracking
Chapter 17. File Management Tips
Chapter 18. Fixed Assets and Vehicle Lists
Part V: The Part of Tens
Chapter 19. Tips for Handling (Almost) Ten Tricky Situations
Chapter 20. (Almost) Ten Secret Business Formulas
Part VI: Appendixes
Appendix A. Installing QuickBooks in a Dozen Easy Steps
Appendix B. If Numbers Are Your Friends
Appendix C. Sharing QuickBooks Files
Book Details
Paperback: 408 pages
Publisher: For Dummies (September 2013)
Language: English
ISBN-10: 1118720059
ISBN-13: 978-1118720059
Download [24.4 MiB]