QuickBooks 2013: The Missing Manual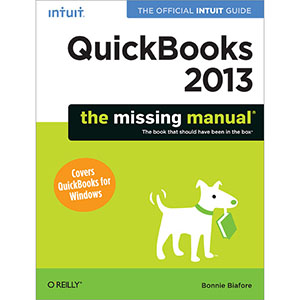 The Official Intuit Guide to QuickBooks 2013
Your bookkeeping workflow will be smoother and faster with QuickBooks 2013, and as the program's Official Guide, this Missing Manual puts you firmly in control. You get step-by-step instructions on how and when to use specific features, along with basic accounting advice to guide you through the learning process.
The important stuff you need to know:
Get started. Set up your accounts, customers, jobs, and invoice items quickly.
Follow the money. Track everything from billable time and expenses to income and profit.
Keep your company financially fit. Examine budgets and actual spending, income, inventory, assets, and liabilities.
Spend less time on bookkeeping. Use QuickBooks to create and reuse bills, invoices, sales receipts, and timesheets.
Find key info fast. Rely on QuickBooks' Search and Find features, as well as the Vendor, Customer, Inventory, and Employee Centers.
Exchange data with other programs. Move data between QuickBooks, Microsoft Office, and other programs.
Table of Contents
Part I: Getting Started
Chapter 1. Creating a Company File
Chapter 2. Getting Around in QuickBooks
Chapter 3. Setting Up a Chart of Accounts
Chapter 4. Setting Up Customers, Jobs, and Vendors
Chapter 5. Setting Up Items
Chapter 6. Setting Up Other QuickBooks Lists
Chapter 7. Managing QuickBooks Files
Part II: Bookkeeping
Chapter 8. Tracking Time and Mileage
Chapter 9. Paying for Expenses
Chapter 10. Invoicing
Chapter 11. Producing Statements
Chapter 12. Transaction Timesavers
Chapter 13. Managing Accounts Receivable
Chapter 14. Doing Payroll
Chapter 15. Bank Accounts and Petty Cash
Chapter 16. Making Journal Entries
Chapter 17. Generating Financial Statements
Chapter 18. Performing End-of-Year Tasks
Part III: Managing Your Business
Chapter 19. Managing Inventory
Chapter 20. Budgeting and Planning
Chapter 21. Working with Reports
Part IV: QuickBooks Power
Chapter 22. Online Banking Services
Chapter 23. Configuring Preferences to Fit Your Company
Chapter 24. Integrating QuickBooks with Other Programs
Chapter 25. Customizing QuickBooks
Chapter 26. Keeping Your QuickBooks Data Secure
Part V: Appendixes
Appendix A. Installing QuickBooks
Appendix B. Help, Support, and Other Resources
Book Details
Paperback: 766 pages
Publisher: O'Reilly Media / Pogue Press (October 2012)
Language: English
ISBN-10: 1449316115
ISBN-13: 978-1449316112
Download [60.4 MiB]