Quick Guide to Flash Catalyst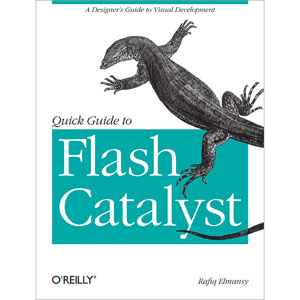 How do you transform user interface designs created in Photoshop or Illustrator into interactive web pages? It's easier than you think. This guide shows you how to use Adobe Flash Catalyst to create interactive UIs and website wireframes for Rich Internet Applications—without writing a single line of code.
Ideal for web designers, this book introduces Flash Catalyst basics with detailed step-by-step instructions and screenshots that illustrate every part of the process. You'll learn hands-on how to turn your static design or artwork into working user interfaces that can be implemented in Flash Builder or Adobe AIR.
Get an overview of Flash Catalyst's interactive components
Import files from Photoshop, Illustrator, or Fireworks
Convert your artwork into interactive components and apply specific actions
Create animated transitions between the web pages in your project
Test interactive components and transitions while you work
Get optimization tips to help you create fast-loading applications
Export projects to the SWF format for web use, or to Adobe AIR for desktop applications
About the Author
Rafiq Elmansy has been a graphic designer for 10 years with a background in traditional art and sculpture. His experience in graphic design includes working on different design projects as well as creative directing. He runs his own design company, Pixel Consultations at www.pixelconsultations.com. He is also an Adobe Community Professional, Adobe Certified Expert in Flash and Photoshop, and the founder and manager of the Adobe user group in Egypt (AUGE), the first Adobe user group in the Middle East. Rafiq is also part of the Adobe Prerelease Program. Rafiq Elmansy is an author in the graphic and design field. His articles are published in Adobe design and developer center, Adobe Edge, communitymx.com, and his design blog www.graphicmania.net. He is the author of Photoshop 3D for Animators published by Focal press.
Book Details
Paperback: 74 pages
Publisher: O'Reilly Media (August 2011)
Language: English
ISBN-10: 1449306748
ISBN-13: 978-1449306748
Download [24.6 MiB]