Prototyping: A Practitioner's Guide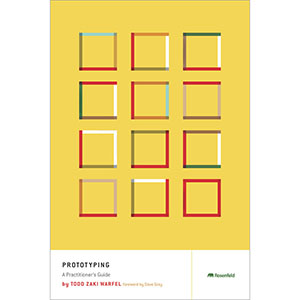 Prototyping is a great way to communicate the intent of a design both clearly and effectively. Prototypes help you to flesh out design ideas, test assumptions, and gather real-time feedback from users.
With this book, Todd Zaki Warfel shows how prototypes are more than just a design tool by demonstrating how they can help you market a product, gain internal buy-in, and test feasibility with your development team.
Why buy this book?
There are few, if any, really practical and short how-to books on prototyping
It addresses the pains and challenges of prototyping rich Internet applications (RIAs) and handheld and mobile devices
You'll learn how to use prototypes to save significant time in development
Who should buy this book?
Current user experience practitioners who would benefit from prototyping (whether they know it or not)
New user experience practitioners (transitioning from other fields, or recent university grads)
Students interested in entering the field
Table of Contents
Chapter 1. The Value of Prototyping
Chapter 2. The Prototyping Process
Chapter 3. Five Types of Prototypes
Chapter 4. Eight Guiding Principles
Chapter 5. Picking the Right Tool
Chapter 6. Paper and Other Analog Methods
Chapter 7. PowerPoint and Keynote
Chapter 8. Visio
Chapter 9. Fireworks
Chapter 10. Axure RP Pro
Chapter 11. HTML
Chapter 12. Testing Your Prototype
Book Details
Paperback: 197 pages
Publisher: Rosenfeld Media (November 2009)
Language: English
ISBN-10: 1933820217
ISBN-13: 978-1933820217
Download [52.2 MiB]