Practical SharePoint 2010 Branding and Customization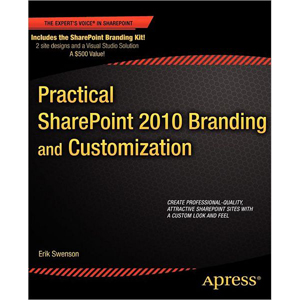 With Practical SharePoint 2010 Branding and Customization, SharePoint branding expert Erik Swenson cuts through the fluff and discusses accessible, easy-to-understand consulting and processes to create aesthetically pleasing, highly usable branded and customized SharePoint websites, both internally and externally. Designed to be a quick reference, how-to guide that lets you dive straight into the task at hand, you'll find this book's attention to detail and pragmatism make it an attractive companion during your branding experience.
SharePoint 2010 deployments are more common than ever, as is the desire to make the environment branded and attractive to both internal and external clients. However, since SharePoint is more than just a collection of web pages, customizing the look and feel and completing the process of branding the platform itself is complex and requires a knowledge of web development, web design techniques, and a familiarity with SharePoint administration—a curious niche, to be sure. And sometimes, you just need to make quick fixes, while at other times, building an entirely customized and branded environment is a multi-step process with lots of stakeholder buy-in and development time required.
Whether you're interested in applying just a touch of style to a team site, or you're branding a public-facing Fortune 500 website based on SharePoint, Practical SharePoint 2010 Branding and Customization is the only book you'll need to quickly, easily, and efficiently brand and customize your environment.
Bonus: Includes the SharePoint 2010 Branding Starter Kit! This kit has everything you need to jumpstart successful and compelling designs. The kit includes a layered Adobe Photoshop file of a SharePoint 2010 site, two pre-built visual design examples, and a Visual Studio solution you can use to deploy either of the designs included. This starter kit is specifically prepared to save you substantial time kicking off your SharePoint branding project and to minimize potential roadblocks.   These branding tools would cost you as much as $500 if purchased separately, but they're included with the purchase of this book at no additional charge! Get started today.
What you'll learn
Plan for branding projects, including creating wireframes and creative mockups as well as gathering requirements and estimation
Use cascading style sheets (CSS), master pages, page layouts, web parts and XSLT to customize branding
Deploy SharePoint branding to production servers using solution packages (WSP)
Who this book is for
This book is for anyone who works within SharePoint sites and wants to make changes to how those sites look, whether they're minor changes or wholesale branding and customization efforts.
Table of Contents
Chapter 1. Introduction to SharePoint 2010 Branding
Chapter 2. Overview of UX/Branding Process
Chapter 3. Gathering Branding Requirements
Chapter 4. Creating the Visual Design
Chapter 5. Setting Up Your Development Environment
Chapter 6. Building the Design
Chapter 7. Testing the Visual Build
Chapter 8. Tips and Tricks
Chapter 9. Tools and Resources
Appendix. CSS Reference Guide
Book Details
Paperback: 368 pages
Publisher: Apress (January 2012)
Language: English
ISBN-10: 1430240261
ISBN-13: 978-1430240266
Download [37.4 MiB]