PlayStation®Mobile Development Cookbook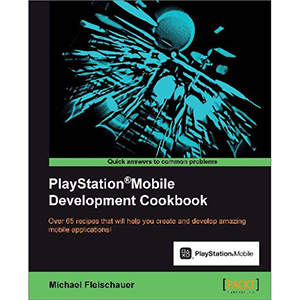 With the PlayStation®Mobile SDK you can create stunning games for the PlayStation®Vita and PlayStation™Certified devices (PS Certified devices). It includes everything you need to get started, including an IDE for developing your code and even an emulator to test your creations.
"PlayStation®Mobile Development Cookbook"| is an exciting and practical collection of recipes that help you make the most of this exciting new platform. It provides you with everything you need to create complete 2D or 3D games and applications that fully unlock the potential of the SDK.
After quickly covering the basics, you'll learn how to utilize input sources like touch, gamepads, and motion controls, and then move on to more advanced content like creating and animating 2D graphics, networking, playing sound effects and music, adding physics, and then finally jumping into the world of 3D.
What you will learn from this book
Discover how to handle multiple sources of input to really help you create something unique
Load and animate sprites within your own 2D game to get up and running quickly with the SDK
Harness the power of the GameEngine 2D library to make your workflow easier
Add engaging physics to your game projects with amazing ease
Learn how to play a variety of sound effects and music and increase player immersion
Create and navigate a 3D world, taking your visuals to the next level
Use 3D models and shaders to make your projects look stunning
Add multiplayer functionality for exciting competitive and cooperative gameplay
Approach
Written as a series of engaging and practical recipes, this essential Cookbook has been meticulously designed and reviewed in order to provide you with the ultimate reference for PlayStation®Mobile development.
Who this book is for
If you've got some prior experience with C# and want to create awesome projects for the PlayStation®Vita and PlayStation™Certified devices, then this book is for you.
Book Details
Paperback: 322 pages
Publisher: Packt Publishing (March 2013)
Language: English
ISBN-10: 1849694184
ISBN-13: 978-1849694186
Download [20.2 MiB]