Planning for IPv6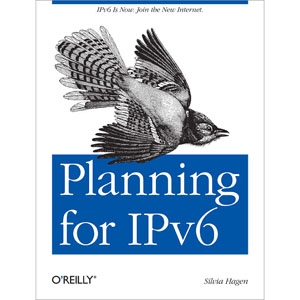 It's official: with IPv4 network addresses close to depletion, moving to IPv6 is now business critical. This concise book helps you plan for IPv6 integration by providing a high-level overview of the technical—and nontechnical—steps involved. Many of the challenges for your enterprise are on the organizational level, and solutions differ from company to company.
IPv6 Essentials author Silvia Hagen, a protocol analysis and directory service expert who's worked with IPv6 international groups and forums for 10 years, supplies answers to the issues most frequently discussed by the clients she consults. With this guide, IPv6 project leaders and planning team members learn how to develop a cohesive integration strategy for building the next-generation network.
Make a business case by focusing on the opportunities IPv6 offers
Create a high level design and conduct a network assessment
Develop a plan for evaluating vendors and products, and building labs and testing
Understand routing protocol choices, security designs, and DNS issues
Discover how to create an IPv6 address plan and manage IPv6 addresses
Learn the available integration and transition technologies, and the scenarios they cover
About the Author
In the networking industry since 1990, Silvia Hagen became a CNE (Certified Novell Engineer) and CNI (Certified Novell Instructor) in 1992. As a successful instructor, she has trained hundreds of system engineers. Today, Silvia is CEO of Sunny Connection AG in Switzerland and works as a senior consultant and analyst for many mid- and large-sized companies. Her expertise is in Directory Services and Protocol Analysis.
Book Details
Paperback: 80 pages
Publisher: O'Reilly Media (September 2011)
Language: English
ISBN-10: 1449305393
ISBN-13: 978-1449305390
Download [2.9 MiB]