Oracle Streams 11g Data Replication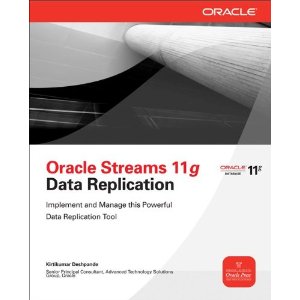 Master Oracle Streams 11g Replication
Enable real-time information access and data sharing across your distributed framework using the expert information in this Oracle Press guide. Oracle Streams 11g Data Replication explains how to set up and administer a unified enterprise data sharing infrastructure. Learn how to capture, propagate, and apply database changes, transform data, and handle data conflicts. Monitoring, optimizing, and troubleshooting techniques are also covered in this comprehensive volume.
Understand Oracle Streams components and architecture
Gain in-depth knowledge about capturing, propagating, and applying data manipulation language (DML) and data definition language (DDL) changes
Learn how to access and modify the contents of Logical Change Records
Build custom procedures for data transformations
Configure Oracle Streams replication for the database, schemas, and tables
Tune Oracle Streams performance for improved throughput
Manage and monitor Oracle Streams using Oracle Enterprise Manager Grid Control
Learn from several practical examples and scripts
About the Author
Kirtikumar Deshpande currently works as a Senior Principal Consultant in the Advanced Technology Solutions group at Oracle Corporation. He has more than 28 years of experience in the Information Technology field, including more than 15 years with Oracle. He co-authored Oracle Performance Tuning 101 and Oracle Wait Interface: A Practical Guide to Performance Tuning & Diagnostics published by Oracle Press. For the latter, he and his co-authors were selected Oracle Magazine's "Editors' Choice Award – Author of The Year" in 2005. He is a frequent speaker at various Oracle User Group conferences worldwide.
Book Details
Paperback: 546 pages
Publisher: McGraw-Hill (December, 2010)
Language: English
ISBN-10: 9780071496643
ISBN-13: 978-0071496643
Download [7.7 MiB]