Oracle Application Express 4.0 with Ext JS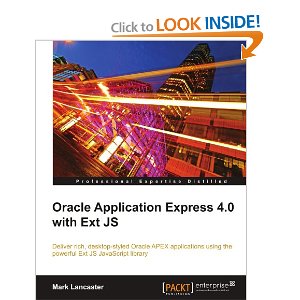 Modern web-based applications are moving rapidly away from simple HTML pages, with users expecting desktop styled rich internet applications. Oracle Application Express includes multiple built-in interfaces especially designed for adding JavaScript libraries and components. Ext JS is a polished, high performance set of customizable UI widgets with a well designed and extensible Component model. Combining Ext JS components with the well engineered server side processing provided by Oracle APEX is a recipe for success.
Written by Oracle ACE, Mark Lancaster, this book is a complete practical guide to building robust desktop-styled web applications using Oracle Application Express and the powerful Ext JS JavaScript library
This book starts off by setting up a productive environment for Oracle APEX and Ext JS, preparing you to get ready to code, and then gradually introducing you to the Ext JS API. You then create a theme based on Ext JS into APEX from scratch, starting with integrating the Ext JS library into the page template, then covering all the template types.
You further enrich your interface by integrating Ext JS form components and Ext JS layout elements. You are shown how to integrate components including tab panels, toolbars and menus. Existing components are also enhanced, transforming select lists into auto-completing combo boxes and text-areas auto-sizing as you type.
Using exciting new Plug-ins feature, you will learn how to develop custom APEX components that can be used declaritively. This book extends native APEX functionality by integrating Ext JS widgets and components with integrated server-side JavaScript generation, AJAX processing and validation.
The book then covers integrating Plug-ins with APEX provided Dynamic Actions JavaScript. You proceed further to build advanced interactive components using AJAX enabled trees and grids.
Then you will see how to use the iFrames component along with page templates to build a multi-page interface and also deal with JavaScript communication between iFrames.
Finally, you will integrate Ext JS with jQuery using the Ext jQuery adaptor. This book also covers examples of jQuery functionality interacting with Ext JS. By the end of this book you will also learn to improve the performance of your JavaScripts.
Build feature rich, browser independent APEX applications using an advanced JavaScript application development framework—Ext. JS
What you will learn from this book :
Set up a productive development environment for both Oracle APEX and Ext JS
Set up a source code repository, to store all database schema scripts, web-server assets, install scripts and third party libraries
Automate your build process, to simplify the deployment of your applications and reduce errors
Create rich and responsive user interfaces that display intuitive visual cues using template types such as buttons, popup list of values, breadcrumbs, calendars, and reports
Build a simple standalone testing page to isolate testing without worrying about interaction with APEX
Build a theme based on Ext JS into APEX from scratch
Customize the appearance of individual tree nodes using the substitution tags and specifying JavaScript code
Build Tab Panels using sub regions, toolbars, and menus
Enhance your applications using APEX plug-ins, covering dynamic actions, item plug-ins, region plug-ins and report column plug-ins
Enhance JavaScript functionality on your web pages by adding server-side validation to the Plug-in
Performance tune your JavaScript
Approach
This book is written in a clear conversational style, which emphasizes a practical learn-by-doing approach. This step by step guide has illustrative examples to implement Ext JS library features in your Oracle APEX applications
Who this book is written for
If you are an Oracle APEX application developer who wants to take APEX applications to the next level by taking advantage of Ext JS features, this book is for you. Prior knowledge of Oracle APEX is required, however, no prior knowledge of Ext JS is required.
Book Details
Paperback: 392 pages
Publisher: Packt Publishing (March, 2011)
Language: English
ISBN-10: 1849681066
ISBN-13: 978-1849681063
Download [12.4 MiB]