Office 2013 For Dummies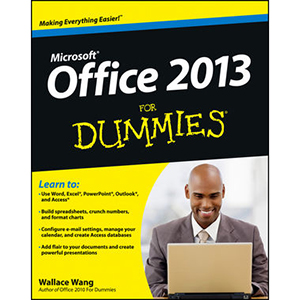 Office 2013 For Dummies is the key to your brand new Office!
Packed with straightforward, friendly instruction, this update to one of the bestselling Office books of all time gets you thoroughly up to speed and helps you learn how to take full advantage of the new features in Office 2013. After coverage of the fundamentals, you'll discover how to spice up your Word documents, edit Excel spreadsheets and create formulas, add pizazz to your PowerPoint presentation, and much more.
Helps you harness the power of all five Office 2013 applications: Word, Excel, PowerPoint, Outlook, and Access
Discusses typing and formatting text in Word and easy ways to dress up your documents with color, graphics, and more
Demonstrates navigating and editing an Excel spreadsheet, creating formulas, and charting and analyzing Excel data
Walks you through creating a PowerPoint presentation and adding some punch with color, sound, pictures, and videos
Explores Outlook, including configuring e-mail, storing contacts, organizing tasks, scheduling your time, and setting appointments
Delves into designing Access databases, including editing, modifying, searching, sorting, and querying; also covers viewing and printing reports, and more
The fun and friendly approach of Office 2013 For Dummies makes doing Office work easy and efficient!
From the Back Cover
Learn to:
Use Word, Excel®, PowerPoint®, Outlook®, and Access®
Build spreadsheets, crunch numbers, and format charts
Configure e-mail settings, manage your calendar, and create Access databases
Add flair to your documents and create powerful presentations
Get to know your Office, express your creativity, and get things done!
Take control of your Office and boost your productivity. This helpful guide walks you step-by-step through the various parts of the Office suite. Get your point across with Word, build spreadsheets with Excel, prepare persuasive presentations with PowerPoint, manage e-mail with Outlook, and organize your data with Access — quickly and easily.
Step into your new Office — explore the main features of Office 2013, create and edit files, and learn how to navigate around the Ribbon
Express yourself — start writing in Word and add pizzazz to your documents with formatting, templates, tables, and cool graphics
Dive into the world of numbers — get up to speed on Excel and start crunching those figures in order to effectively analyze and present your data
Presentation power — create slide shows that captivate your audience by punching up your presentations with charts, graphics, and narration
Get organized and stay connected — find out how to better manage your e-mail, keep track of your appointments, save your contacts, and much more
Database delight — design a database with Access in order to store, sort, retrieve, and analyze important data
Open the book and find:
Steps for entering, modifying, and saving data
Tips for working with the Ribbon interface
Ways to enhance Word documents with templates and graphics
How to design presentations that impress
Methods for crunching data in Excel to uncover key information
Details about storing contacts and scheduling appointments
Shortcuts and other secrets to boost your productivity
Advice on customizing Office 2013 for your needs
Book Details
Paperback: 432 pages
Publisher: For Dummies (February 2013)
Language: English
ISBN-10: 1118497155
ISBN-13: 978-1118497159
Download [38.9 MiB]