Office 2010 Digital Classroom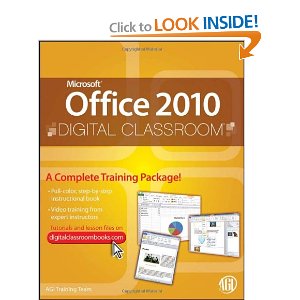 The complete book-and-video training package for Office 2010!
This terrific Office 2010 book-and-video training package-from the same professional training experts who also create many training materials for Adobe Systems-is like having your own personal instructor guiding you through each lesson, but you work at your own pace! The full-color book includes 27 lessons that teach you the new features and quirks of Microsoft Office 2010.
Each lesson includes step-by-step instructions and lesson files, and provides valuable video tutorials that complement what you're learning and clearly demonstrate how to do tasks. This jam-packed training package takes you well beyond the basics in a series of easy-to-absorb, five-minute lessons.
Shows you how to use Microsoft Office 2010, the new version of the Microsoft Office suite that is available in standard 32-bit and now also a 64-bit version
Walks you through 27 lessons, each consisting of easy-to-follow, step-by-step instructions and lesson files in full color that make each task less intimidating
Includes all the lesson files from the book and video tutorials that clearly show you how to do tasks and reinforces what you're learning in the book
Covers exciting new Office 2010 features such as Office Web apps that can be accessed from anywhere and a streamlined new Ribbon
Provides the perfect, one-stop, robust learning package-with book and supplementary video training on all the applications in Office 2010
Additional resources available on companion Web site: www.digitalclassroombooks.com
Learn the ins-and-outs of Office 2010 with this all-in-one, value-packed combo!
From the Back Cover
You have a personal tutor in the Digital Classroom
If you want expert instruction that fits into your schedule, the Digital Classroom series delivers. Expert instructors guide you through 27 lessons, helping you learn essential Office 2010 skills at your own speed. Full-color, step-by-step instructions in the book are enhanced with video tutorials at the companion Web site digitalclassroombooks.com. With this Digital Classroom training package, you have your own private instructor showing you the easiest way to learn Office 2010.
Explore the user interface for each Office 2010 program
Make documents compatible with previous versions
Understand how to use Backstage View and customize Office toolbars
Create PowerPoint presentations with Clip Art, Shape Styles, and SmartArt diagrams
Insert page elements in Word documents and format pages
Edit and format Excel ranges and work with formulas and functions
Set up and format Excel charts
Full-color, step-by-step instructional book
Video training from expert instructors
Tutorials and lesson files on digitalclassroombooks.com
Book Details
Paperback: 464 pages
Publisher: Wiley (March, 2011)
Language: English
ISBN-10: 0470577770
ISBN-13: 978-0470577776
Download [60.3 MiB]