Moral Intelligence 2.0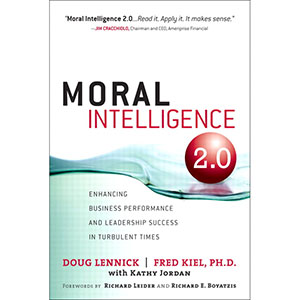 "Organizations without strong values will not survive the test of time. Moral Intelligence 2.0 offers a timeless message that is particularly timely in light of the recent financial crisis. Read it. Apply it. It makes sense."
—Jim Cracchiolo, Chairman and CEO, Ameriprise Financial
"This is a critically important book at a critical time in the history of U.S. financial markets."
—John Taft, CEO, RBC Wealth Management and Chairman, Securities and Financial Markets Association
"The authors demonstrate that business success should be built on the bedrock of moral values. They clearly identify the need to foster these moral skills in future generations of leaders."
—Jeff Ettinger, CEO, Hormel Foods Corporation
"Leaders who gain their employees' confidence through moral leadership will achieve greater commitment, productivity, and sustained performance. This book helps you identify such leaders and build a culture of moral competence in your organization."
—David E. Pylipow, EVP and Chief Human Resources Officer, SuperValu, Inc.
"I highly recommend this book to my students and strongly believe it is essential reading for any business executive."
—Shane Dikolli, Ph.D. CPA, Associate Professor, The Fuqua School of Business, Duke University
"Lennick and Kiel bring brilliant clarity to the potential market disruption caused by applying sophisticated analytic approaches without the filter of strong moral codes."
—Mark B. Gorman, CEO and Founder, The Gorman Group Insurance Consultancy
"The world of business would be vastly improved if Moral Intelligence became required reading."
–Daniel Goleman, Author of Emotional Intelligence
Great companies have leaders who actively apply moral values to achieve enduring success. Conversely, companies with amoral or dishonorable leaders fail–and, in the recent financial crisis, they nearly took down the world economy with them. Moral Intelligence 2.0 identifies the values that matter most, demonstrates their links to success, shows how to apply them as leaders, and helps you build companies that embody them.
Using new examples, case studies, and interviews with key business leaders, the authors show how greater moral intelligence can drive higher levels of trust, engagement, retention, and innovation. Readers will find specific, expert guidance on moral leadership in both large organizations and entrepreneurial ventures. This edition also introduces a practical, step-by-step plan for strengthening all four core elements of moral intelligence: integrity, responsibility, compassion, and forgiveness.
Quantifying the business value of high moral intelligence
…and the multiple costs of moral failure
Applying moral values when it's toughest–and matters most
Four steps toward the right decision: recognize, reflect, reframe, and respond
Becoming a more effective moral leader
Improving your personal Moral Positioning System–and using it to lead
Book Details
Hardcover: 336 pages
Publisher: Prentice Hall (March 2011)
Language: English
ISBN-10: 0132498286
ISBN-13: 978-0132498289
Download [3.4 MiB]