Moodle for Mobile Learning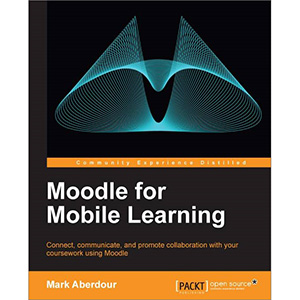 Mobile devices have become ubiquitous and offer many new possibilities for learning. Moodle, when combined with a mobile device, opens up a new world of possibilities to teachers, instructors, and training professionals to develop their courses. The learning experience can be hugely improved by playing to the strengths of mobile devices, and Moodle for Mobile Learning helps you do just that.
"Moodle for Mobile Learning" is a practical, hands-on guide that provides you with ideas and step-by-step exercises that will help you leverage the features of mobile devices in your Moodle course designs. It also aims at providing you with hands-on knowledge in creating mlearning courses so that you can create your own effective mobile learning interactions.
Looking at the underlying theory of mobile learning, "Moodle for Mobile Learning" aims to enable you to apply this to course design using Moodle. Organized into key sectors including schools, further and higher education, and workplace learning, this book will take you through a number of clear, practical recipes that will help you to take advantage of mobile technology in your Moodle course design.
You will learn how to develop your mobile learning strategy and whether to use a mobile friendly Moodle theme or a Moodle mobile app to deliver your strategy. There are certain types of learning activities that are perfectly suited to mobile delivery. We look at delivering podcasts, engaging with social media, setting up photo, video and audio assignments, setting up eBook and App libraries, uploading audio assignment feedback, submitting reflective logs, using chat and messaging tools, using web conferencing and much more.
Mobile devices already form the backbone of your learners' daily lives. If you want to use Moodle to bring those devices into the learning process, then this is the book for you.
What you will learn from this book
Develop your mobile learning strategy
Improve your understanding of how to use mobile devices to enhance your courses
Learn to analyze and select mobile-friendly Moodle themes
Discover the uses for Moodle mobile apps
Explore how to deliver static and multimedia content to mobiles
Use mobile devices to capture reflective logs and journals
Perform assessments using mobiles
Communicate with mobile users
Approach
A guide with practical examples that gives you hands-on knowledge in creating learning environments for Mobile devices using Moodle, while also empowering you to create your own effective mlearning course designs.
Who this book is for
"Moodle for Mobile Learning" is primarily aimed at Moodle course practitioners – teachers, tutors, instructors, and learning and development professionals. It does not require you to have an in-depth knowledge about any mobile technologies. It is for anyone who has the desire to deliver great courses that allow their learners to interact using the devices in their pockets.
Book Details
Paperback: 234 pages
Publisher: Packt Publishing (September 2013)
Language: English
ISBN-10: 1782164383
ISBN-13: 978-1782164388
Download [31.9 MiB]