Mobile Web Design For Dummies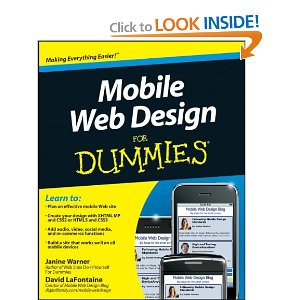 The perfect place to learn how to design Web sites for mobile devices!With the popularity of Internet access via cell phones and other mobile devices, Web designers now have to consider as many as eight operating systems, several browsers, and a slew of new devices as they plan a new site, a new interface, or a new sub-site. This easy-to-follow friendly book guides you through this brave new world with a clear look at the fundamentals and offers practical techniques and tricks you may not have considered.
Explores all issues to consider in planning a mobile site
Covers the tools needed for mobile design, in particular XHTML and CSS
Shows you how to plan for multimedia, e-commerce, and marketing your site, including adding audio, video, and social networking
Provides real-world examples and tips to help you avoid common pitfalls
If you're contemplating Web design in a mobile world, start first with this practical guide.
From the Back Cover
Let's go mobile! Here's how to make a big impression on the small screenThese days everyone's on the go, and Web sites that are easy to navigate on your computer screen may be frustrating and inconvenient on your mobile phone. This book is all about fixing that problem! Learn what makes a great mobile Web page, the technologies that help you get around the limitations, and how to pack a punch on the small screen.
Small space, big challenge — examine what makes mobile a different creature and the specific design challenges involved
Being flexible — learn to adapt your existing site for mobile display
Tools of the trade — discover the best markup language for your audience: WML, XHTML MP, or HTML5
Maximize mobile features — take advantage of special features on the iPhone®, Android, and BlackBerry® Storm
Testing, testing — discover how to test your mobile designs with online emulators
Get around the limitations — find out how to add audio and video and optimize images for the small screen
Spread the word — explore marketing options to get the word out about your mobile site
M-commerce excitement — add a mobile-friendly shopping cart to your site
Open the book and find:
The unique challenges of a mobile site
How smartphones, touchscreen phones, and feature phones differ
Tips for adapting an existing site to mobile
Points to consider when designing for the small screen
What WAP, WML, XHTML MP and HTML5 are — and how to use them
Ways to make multimedia work on a mobile device
How to use a mobile emulator
Interviews with top mobile experts
Learn to:
Plan an effective mobile Web site
Create your design with XHTML MP and CSS2 or HTML5 and CSS3
Add audio, video, social media, and m-commerce functions
Build a site that works well on all mobile devices
Book Details
Paperback: 384 pages
Publisher: For Dummies (September, 2010)
Language: English
ISBN-10: 0470560967
ISBN-13: 978-0470560969
Download [11.5 MiB]