Microsoft Windows Intune 2.0: Quickstart Administration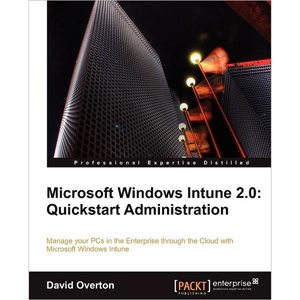 Microsoft Windows Intune is a cloud service solution that simplifies how small and mid-sized businesses manage and secure PCs using Microsoft cloud services and Windows 7—so your computers and users can operate at peak performance all the time.
This step-by-step guide will show you how to plan, set up and maintain Windows Intune, showing you how to manage a group of PCs (either 1 business or several if a partner) from the base operating system, through to the patches, anti-malware solution and deployed software and policies from a central console, using the Windows Intune service.
This book takes you through all the steps to plan, set up and maintain Windows Intune and how to manage a group of PCs. The book starts by providing an overview of Cloud Computing and PC Management. The book then dives into topics such as Windows Intune features, signing up for Windows Intune and installing the client software, configuring Windows Intune, proactive management, and monitoring and dealing with alerts, including remote assistance amongst others. As Windows 7 is part of Windows Intune, the book will also cover the minimum steps required to move from Windows XP to Windows 7 while keeping user settings and preferences.
What you will learn from this book
Plan and deliver PC management, ensuring the IT requirements align to the business needs
Install and configure Windows Intune, ensuring good communication between the PC and the internet-based service
Understand how policies apply to computers and the impact and resolution of multiple conflicting policies
Monitor computers and report to the business, the success of the PC management and any specific issues that need addressing in the users' behaviour
Remotely install and manage Microsoft and non-Microsoft updates for computers that you manage
Install and uninstall software without user interaction driven by the management console
Deal with alerts and remotely connect to a user's computer to fix issues and offer assistance, right through a reboot if required
Diagnose more serious system issues with the Microsoft Diagnostic and Recovery Toolset
Migrate from Windows XP or Windows Vista to Windows 7 without losing the users' files and settings
Approach
This book is a concise and practical tutorial that shows you how to plan, set up and maintain Windows Intune to manage one or more businesses PCs.
Who this book is for
If you are an administrator or partner who wants to plan, set up and maintain Windows Intune and manage a group of PCs then this book is for you . You should have a basic understanding of Windows administration, however, knowledge of Windows Intune would not be required.
Book Details
Paperback: 312 pages
Publisher: Packt Publishing (January 2012)
Language: English
ISBN-10: 1849682968
ISBN-13: 978-1849682961
Download [17.0 MiB]