Microsoft SharePoint 2013 Step by Step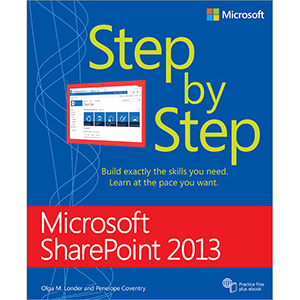 The smart way to learn Microsoft SharePoint 2013—one step at a time!
Experience learning made easy—and quickly teach yourself how to boost team collaboration with SharePoint 2013. With Step by Step, you set the pace—building and practicing the skills you need, just when you need them!
Customize your team site's layout, features, and apps
Manage and share ideas, documents, and data
Capture and organize content into lists and libraries
Automate business processes with built-in workflows
Use social features to communicate and collaborate
Publish content using enhanced web content management
Table of Contents
Chapter 1. Introducing SharePoint 2013
Chapter 2. Navigating a SharePoint Site
Chapter 3. Working with Documents and Information in Lists and Libraries
Chapter 4. Working with Webpages
Chapter 5. Creating and Managing Sites
Chapter 6. Making Lists and Libraries Work for you
Chapter 7. Getting Social
Chapter 8. Working with Wikis and Blogs
Chapter 9. Searching for Information and People
Chapter 10. Managing Work Tasks
Chapter 11. Working with Workflows
Chapter 12. Using SharePoint with Excel and Access
Chapter 13. Working with Business Intelligence
Chapter 14. Using SharePoint with Outlook and Lync
Chapter 15. Working with Content Management
Appendix A. SharePoint 2013 User Permissions and Permission Levels
Appendix B. SharePoint 2013 Features
Appendix C. SharePoint 2013 Solutions Required to Complete the Exercises in this Book
Book Details
Paperback: 678 pages
Publisher: Microsoft Press (August 2013)
Language: English
ISBN-10: 0735667039
ISBN-13: 978-0735667037
Download [43.7 MiB]