Microsoft Dynamics Sure Step 2010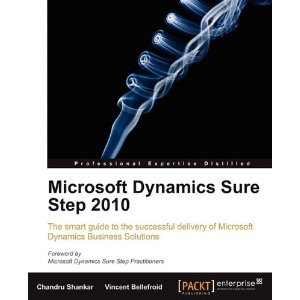 Delivering business solutions is more than just product play. Software is often viewed as the enabler; however, the key to success is how the solution is implemented and how the implementations are managed. With this as the background, Microsoft has developed Microsoft Dynamics Sure Step as the full lifecycle methodology for the Dynamics business solutions portfolio. Microsoft Dynamics Sure Step enables you to maximize your Dynamics investments and increase your efficiency to select, sell, deliver, operate and support your business solution.
This book details the use of the Microsoft Dynamics Sure Step methodology to enable the full lifecycle of Microsoft Dynamics Sure Step business solutions engagements. Guidance is provided on the due diligence process for the customer that overlaps the solution selling cycle for the service provider, through to the solution implementation phases, encompassing on-going maintenance and upgrades.
This book provides detailed coverage of how to use Microsoft Dynamics Sure Step to successfully deliver Dynamics solutions for your business.
The book begins by focusing on the aspects of due diligence and solution selling- whether you are the customer or the service provider, you can learn how you work together to select the right solution to meet the organization's needs. In the ensuing chapters, you will learn how Microsoft Dynamics Sure Step can help improve the overall quality of your Dynamics business solution, including coverage of proactive and post go-live optimization offerings and a thorough explanation of how to upgrade your Dynamics solutions to the latest release of the products.
Finally, the book discusses the essence of Microsoft Dynamics Sure Step projects and how to successfully deliver these business solutions, including project and change management disciplines and processes.
Additional key topics such as a guide to adopting Microsoft Dynamics Sure Step are also provided if you are looking to develop a consistent process in your organization.
Maximize your Microsoft Dynamics Sure Step investments, from solution selection or solution selling, to solution delivery and support
What you will learn from this book
Understand how to effectively use Microsoft Dynamics Sure Step to implement the right Microsoft Dynamics business solution with quality, on-time and on-budget results.
Learn business solution selling techniques and guidance to accelerate and close a sale, as well as related guidance on specific industries
Discover how Microsoft Dynamics Sure Step support's your buy cycle, as you progress through your needs assessment, alternatives assessment and risk assessment stages
Examine the different options to choose from for your business solution delivery, including waterfall and agile approaches
Acquire insights into how you can proactively optimize the business solution during implementation, as well as continue to maintain the health of your solution in production
Determine the approach and tools available to upgrade your business solutions to the current product releases
Gain knowledge in key areas such as the project and change management disciplines provided in Microsoft Dynamics Sure Step
Familiarize yourself with the approach to adopting the Microsoft Dynamics Sure Step methodology as your own
Approach
A focused tutorial, this book is much more than just another step-by-step guide into project management. This book shows you how to implement Microsoft Dynamics Sure Step business solutions, with Microsoft Dynamics Sure Step providing the basis. This book will also help you to plan, align, and orchestrate your sales activities. It will orient you to tactics required to be efficient, proactive, goal driven and flexible in your Microsoft Dynamics engagements.
Who this book is written for
If you are a Dynamics consultant, developer, or in a customer resources or sales role that requires guidance and knowledge of the ERP/CRM business solutions space or to deliver business solutions that meet or exceed the expectations of your organization, then this book is ideal for you.
Book Details
Paperback: 360 pages
Publisher: Packt Publishing (January, 2011)
Language: English
ISBN-10: 1849681104
ISBN-13: 978-1849681100
Download [22.5 MiB]