MCTS Microsoft Windows 7 Configuration Study Guide: Exam 70-680, 2nd Edition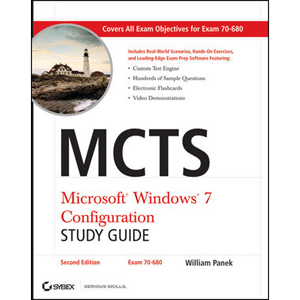 A fully updated study guide for MCTS exam 70-680
Demand for experienced, qualified Windows 7 administrators remains high. IT professionals seeking certification in Windows 7 administration will find everything they need to learn to pass the MCTS exam (70-680) in this complete Sybex Study Guide. Updated to cover the most recent version of the exam, this comprehensive guide examines all the exam objectives, using real-world scenarios, hands-on exercises, and challenging review questions.
Certification in Windows 7 administration is highly prized by IT professionals and employers; this comprehensive study guide covers everything you need to know to pass MCTS exam 70-680
Covers installing, upgrading, and migrating to Windows 7; deploying Windows 7; configuring hardware, applications, network connectivity, access to resources, and mobile computing; monitoring and maintaining systems that run Windows 7; and configuring backup and recovery options
Features review questions, practice exams, flashcards, and video walkthroughs
This complete study guide is the partner you need to assure your success on exam 70-680.
From the Back Cover
Prepare for the Latest Version of Exam 70-680
If you're seeking certification in Windows 7 configuration, you'll want to be ready for the very latest version of MCTS Exam 70-680, Windows 7 Configuration. This comprehensive book is the in-depth study tool you need to prepare. In addition to covering all exam objectives, MCTS: Microsoft Windows 7 Configuration Study Guide, Second Edition delves into the latest Windows 7 topics and technologies—and includes recent updates to the exam. Inside, find:
Full coverage of all exam objectives in a systematic approach, so you can be confident you're getting the instruction you need for the exam
Practical hands-on exercises to reinforce critical skills
Real-world scenarios that put what you've learned in the context of actual job roles
Challenging review questions in each chapter to prepare you for exam day
Exam Essentials, a key feature in each chapter that identifies critical areas you must become proficient in before taking the exam
Video demonstrations of some of the more challenging tasks Windows 7 administrators can expect to perform
A handy tear card that maps every official exam objective to the corresponding chapter in the book, so you can track your exam prep objective by objective
Look inside for complete coverage of all exam objectives.
Book Details
Paperback: 624 pages
Publisher: Sybex; 2nd Edition (October 2011)
Language: English
ISBN-10: 0470948450
ISBN-13: 978-0470948453
Download [25.0 MiB]