Mastering Photoshop for Web Design, Volume 2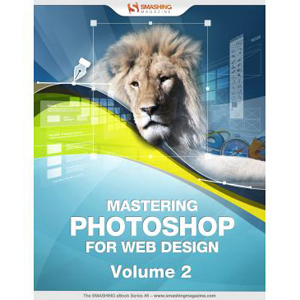 This eBook is aimed at advanced and intermediate designers who are keen to improve their Photoshop skills and will help you get most out of the program by providing you with expert tips and practical advice you can use every day. We understand that creating great artwork without intimately knowing your tools is certainly possible, but the more you know, the more likely you are to work faster and with greater confidence. We hope that you will find this eBook useful and valuable as its predecessor.
The articles have been published on Smashing Magazine in 2010 and 2011 and have been carefully re-edited and specially prepared for this eBook.
Mastering Photoshop: Noise, Textures, Gradients and Rounded Rectangles
Useful Photoshop Tips And Tricks for Photo Retouching
Photo Retouching Tips and Tricks in Photo Retouching
The Ultimate Guide to Cloning in Photoshop
Designing for iPhone 4 Retina Display: Techniques and Workflow
Mastering Photoshop: Pixel Perfection when Rotating, Pasting and Nudging
Setting up Photoshop for Web and iPhone Development
Compositing in Adobe Photoshop: Time- Saving Tips
Mastering Photoshop: Unknown Tricks and Time-Savers
Preparing Photoshop Files for Web Developers
In Defense of Photoshop
Book Details
Paperback: 216 pages
Publisher: Smashing Media (April 2011)
Language: English
Download [15.7 MiB]