Mastering Magento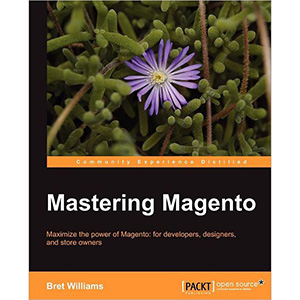 Magento, the most popular open source e-commerce platform in the world, is both amazingly powerful and astoundingly complex. Learn from an experienced Magento "master" how to leverage the full power of Magento.
Mastering Magento is the perfect companion guide for both newcomers and experienced Magento users. Designers, developers and store owners alike will have a better understanding of how Magento works, and how to take advantage of Magento's immense power to create online stores that help you sell.
From planning your Magento installation through advanced techniques designed to make your store as successful as possible, this book is a roadmap for managing your Magento store.
Focusing on Magento's Community version, the book covers everything from creating and managing multiple stores to fine-tuning Magento for speed and performance. Learn how to manage categories, products, design themes, extensions and more.
Using real-world examples, screenshots and personal insights, you'll learn to truly master Magento.
What you will learn from this book
Learn to create a solid plan for your Magento store.
Gain a better understanding of how Magento manages multiple websites and stores in a single installation.
Learn how to localize Magento for multiple languages and currencies.
Learn the little-known techniques for customizing designs and layouts.
Get more speed and performance from your Magento store using only a few simple techniques.
Learn how to leverage Magento's SEO features for better search rankings.
Learn how to build and manage Content Managed (CMS) pages and content.
Includes a complete configuration guide for launching your new Magento store.
Approach
Written in a step by step tutorial style with plenty of insider insights along the way.
Who this book is for
Web designers, developers or ecommerce store-owners, who design or manage Magento stores for their clients.
Book Details
Paperback: 300 pages
Publisher: Packt Publishing (May 2012)
Language: English
ISBN-10: 1849516944
ISBN-13: 978-1849516945
Download [16.7 MiB]