Mastering Autodesk Inventor 2014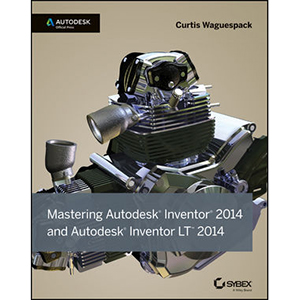 An Autodesk Official Press guide to the powerful mechanical design software
Autodesk Inventor has been used to design everything from cars and airplanes to appliances and furniture. This comprehensive guide to Inventor and Inventor LT features real-world workflows and work environments, and is packed with practical tutorials that focus on teaching Inventor tips, tricks, and techniques. Additionally, you can download datasets to jump in and practice on any exercise.
This reference and tutorial explains key interface conventions, capabilities, tools, and techniques, including design concepts and application, parts design, assemblies and subassemblies, weldment design, and the use of Design Accelerators and Design Calculators. There's also detailed coverage of design tactics for large assemblies, effective model design for various industries, strategies for effective data and asset sharing, using 2D and 3D data from other CAD systems, and improving designs by incorporating engineering principles.
Uses real-world sample projects so you can quickly grasp the interface, tools, and processes
Features detailed documentation on everything from project set up to simple animations and documentation for exploded views, sheet metal flat patterns, plastic part design, and more
Covers crucial productivity-boosting tools, iLogic, data exchange, the Frame Generator, Inventor Studio visualization tools, dynamic simulation and stress analysis features, and routed systems features
Downloadable datasets let you jump into the step-by-step tutorials anywhere
Mastering Autodesk Inventor and Autodesk Inventor LT is the essential, comprehensive training guide for this powerful software.
Table of Contents
Chapter 1. Getting Started with Autodesk Inventor
Chapter 2. A Hands-on Test Drive of the Workflow
Chapter 3. Sketch Techniques
Chapter 4. Basic Modeling Techniques
Chapter 5. Advanced Modeling Techniques
Chapter 6. Sheet Metal
Chapter 7. Reusing Parts and Features
Chapter 8. Assembly Design Workflows
Chapter 9. Large Assembly Strategies
Chapter 10. Weldment Design
Chapter 11. Presentations and Exploded Views
Chapter 12. Documentation
Chapter 13. Tools Overview
Chapter 14. Exchanging Data with Other Systems
Chapter 15. Frame Generator
Chapter 16. Inventor Studio
Chapter 17. Stress Analysis and Dynamic Simulation
Chapter 18. Routed Systems
Chapter 19. Plastics Design Features
Chapter 20. iLogic
Appendix A. Th e Bottom Line
Appendix B. Autodesk Inventor Certification
Book Details
Paperback: 1032 pages
Publisher: Sybex (July 2013)
Language: English
ISBN-10: 1118544862
ISBN-13: 978-1118544860
Download [46.0 MiB]