Losing It! Behaviors and Mindsets that Ruin Careers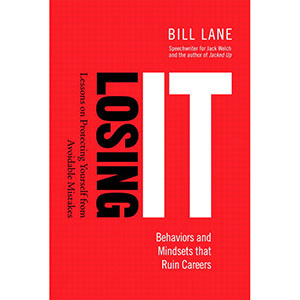 "In Losing It, Bill Lane has created a fast-moving, colorful, and intelligent book with insights and lessons for current and aspiring leaders, honed through decades of true insider experience in government and industry."
–W. James McNerney, Jr., Chairman, President, and CEO, The Boeing Company
"I might have described some of these historical events a bit differently, but Bill's interpretations always make for a fun read."
–Jack Welch, Founder, Jack Welch Management Institute
"Valuable lessons for anyone rapidly rising through the ranks, especially regarding the critical importance of always maintaining your personal integrity."
–Jeffrey H. Dworken, Global Vice Chairman, Treasurer, Ernst & Young Global Limited
"Lane casts a very wide net in this book and harvests a rich collection of lessons about not only business but also life. A must-read."
–Philip Ameen, Vice President and Comptroller, General Electric (Retired)
Why Even Great Executives Fail Spectacularly–and How to Keep It from Happening to You
By renowned executive consultant Bill Lane, who worked side-by-side with Jack Welch at GE for decades
Reflects new interviews with top leaders at companies ranging from Boeing and AXA Equitable to Nielsen
Packed with surprising insights–including the right ways to micromanage and the effective forms of paranoia
Why do otherwise brilliant and successful leaders flame out…often spectacularly? How can you prevent your own career train wreck by learning from their experiences? In Losing It, long-time GE insider Bill Lane draws on his immense experience working with senior leaders to distill today's core causes of executive failure. Lane reveals exactly how to recognize your own emerging leadership flaws–and then systematically fix, eliminate, or overcome them. This ruthlessly candid book pulls no punches. It won't always be comfortable to read. But it just might save your career.
From arrogance to B.S., distraction to wishful thinking, even the savviest executives can fall victim to the same endemic diseases of flawed leadership. Having been Jack Welch's speechwriter for nearly two decades, Lane draws on his close observations of leaders at GE–and other top companies–to shine the cold, cruel light of reality on the types of behaviors that are career killers.
Lane reveals how to tell when you're being lied to–by anyone, especially yourself. You'll discover how to recognize subtle, silent temptations to compromise your performance, agility, or integrity, so you can maintain (and build on) the standards of excellence that got you this far.
Packed with compelling true stories from the pinnacles of global business, Losing It reveals the career disasters top leaders never saw coming…so you can keep them from ever happening to you!
Cheats, freaks, sneaks, sleazes–and good guys slipping into gray zones
Escape the integrity trap; leverage the integrity opportunity
Lead; don't preside: how to stay on the edge, where you belong
Actionable lessons from the deck of the RMS Titanic
The imperative of selective micromanagement
Know when and how to drill down–and how far down to go
Focus on your core business, not distractions
Awards, speeches, and philanthropy are not your core business
Confront the disagreeable, smelly pig called reality
Ferret out wishful thinking: theirs and yours
Book Details
Hardcover: 176 pages
Publisher: FT Press (May 2012)
Language: English
ISBN-10: 0133040240
ISBN-13: 978-0133040241
Download [2.4 MiB]