Location-Aware Applications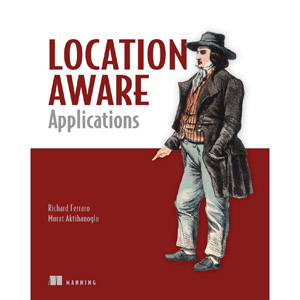 Mobile customers want entertainment, business apps, and on-the-go services that recognize and respond to location. This book will guide you through the technology and business of mobile applications so you can create competitive and innovative apps based on location-based services. It is an engaging look at the LBS landscape, from choosing the right mobile platform, to making money with your application, to dealing with privacy issues. It provides insight into a wealth of ideas for LBS development so you can build the next killer app.
What's Inside
Managing location-aware content
Making money from location-based services
Augmented reality and tablets
Detailed examples for iPhone and Android
Who Should Read this Book
This book is written for developers and business pros – no prior knowledge of location-based services is assumed.
Table of Contents
PART 1 LBS, THE BIG PICTURE
Location-based services: An overview
Positioning technologies
Mapping
Content options
PART 2 TECHNOLOGY
Consumer applications
Mobile platforms
Connectivity issues
Server-side integration
PART 3 CREATING WINNING LBS BUSINESSES
Monetization of location-based services
The privacy debate
Distributing your application
Securing your business idea
Book Details
Paperback: 320 pages
Publisher: Manning Publications (July 2011)
Language: English
ISBN-10: 1935182331
ISBN-13: 978-1935182337
Download [13.5 MiB]