Linux Shell Scripting Cookbook, 2nd Edition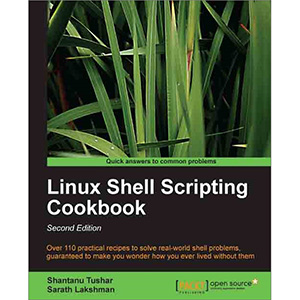 The shell remains one of the most powerful tools on a computer system — yet a large number of users are unaware of how much one can accomplish with it. Using a combination of simple commands, we will see how to solve complex problems in day to day computer usage.
Linux Shell Scripting Cookbook, Second Edition will take you through useful real-world recipes designed to make your daily life easy when working with the shell. The book shows the reader how to effectively use the shell to accomplish complex tasks with ease.
The book discusses basics of using the shell, general commands and proceeds to show the reader how to use them to perform complex tasks with ease.
Starting with the basics of the shell, we will learn simple commands with their usages allowing us to perform operations on files of different kind. The book then proceeds to explain text processing, web interaction and concludes with backups, monitoring and other sysadmin tasks.
Linux Shell Scripting Cookbook, Second Edition serves as an excellent guide to solving day to day problems using the shell and few powerful commands together to create solutions.
What you will learn from this book
Explore a variety of regular usage tasks and how it can be made faster using shell command
Write shell scripts that can dig data from web and process it with few lines of code
Use different kinds of tools together to create solutions
Interact with simple web API from scripts
Perform and automate tasks such as automating backups and restore with archiving tools
Create and maintain file/folder archives, compression formats and encrypting techniques with shell
Set up Ethernet and Wireless LAN with the shell script
Monitor different activities on the network using logging techniques
Approach
This book is written in cookbook style and it offers learning through recipes with examples and illustrations. Each recipe contains step-by-step instructions about everything necessary to execute a particular task. The book is designed so that you can read it from start to end for beginner's or just open up any chapter and start following the recipes as a reference for advanced users.
Who this book is for
This book is both for the casual GNU/Linux users who want to do amazing things with the shell, and for advanced users looking for ways to make their lives with the shell more productive.
You can start writing scripts and one-liners by simply looking at the similar recipe and its descriptions without any working knowledge of shell scripting or Linux. Intermediate/advanced users as well as system administrators/ developers and programmers can use this book as a reference when they face problems while coding.
Book Details
Paperback: 384 pages
Publisher: Packt Publishing; 2nd Edition (May 2013)
Language: English
ISBN-10: 1782162747
ISBN-13: 978-1782162742
Download [5.9 MiB]