iPad: The Missing Manual, 6th Edition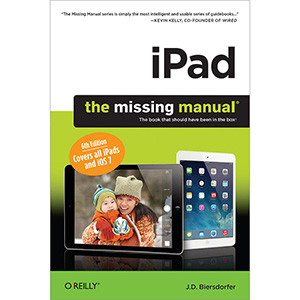 Super-fast processors, streamlined Internet access, and free productivity and entertainment apps make Apple's new iPads the hottest tablets around. But to get the most from them, you need an owner's manual up to the task. That's where this bestselling guide comes in. You'll quickly learn how to import, create, and play back media; shop wirelessly; sync content across devices; keep in touch over the Internet; and even take care of business.
The important stuff you need to know:
Take tap lessons. Become an expert 'Padder with the new iPad Air, the iPad Mini with Retina display, or any earlier iPad.
Take your media with you. Enjoy your entire media library—music, photos, movies, TV shows, books, games, and podcasts.
Surf like a maniac. Hit the Web with the streamlined Safari browser and the iPad's ultrafast WiFi connection or 4G LTE network.
Run the show. Control essential iPad functions instantly by opening the Control Center from any screen.
Beam files to friends. Wirelessly share files with other iOS 7 users with AirDrop.
Get creative with free iLife apps. Edit photos with iPhoto, videos with iMovie, and make music with GarageBand.
Get to work. Use the iPad's free iWork suite, complete with word processor, spreadsheet, and presentation apps.
Table of Contents
Chapter 1. Set Up Your iPad
Chapter 2. Tour Your Tablet
Chapter 3. Interact with Your iPad
Chapter 4. Get Online
Chapter 5. Surf the Web
Chapter 6. Keep in Touch with Email and Messaging
Chapter 7. Organize Your Life With the iPad's Apps
Chapter 8. Shop the App Store
Chapter 9. Read iBooks and ePeriodicals
Chapter 10. Play Games
Chapter 11. Get Productive with iWork
Chapter 12. Sync and Share Media Files Using iTunes and iCloud
Chapter 13. Manage and Play Music and Other Audio
Chapter 14. Watch, Create, and Edit Videos
Chapter 15. View, Shoot, Edit, and Manage Photos
Chapter 16. Back Up and Sync Your Gadgets with iCloud
Appendix A. iPad Settings
Appendix B. iPad Troubleshooting and Care
Book Details
Paperback: 400 pages
Publisher: O'Reilly Media; 6th Edition (November 2013)
Language: English
ISBN-10: 1449341802
ISBN-13: 978-1449341800
Download [74.3 MiB]