iPad & iPhone Administrator's Guide: Enterprise Deployment Strategies and Security Solutions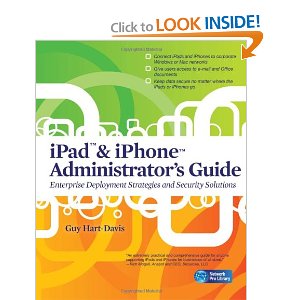 Securely deploy iPads and iPhones on corporate networks
Seamlessly integrate iPads and iPhones into your company's IT systems using the detailed instructions contained in this practical book. iPad & iPhone Administrator's Guide shows you how to use iPads and iPhones as business devices and manage them tightly with Apple's enterprise tools. Learn how to connect iPads and iPhones to your organization's wireless network and mail servers, equip users with the apps they need to be productive at work and outside it, and provide access to essential data without compromising security.
Plan your deployment and choose suitable iPads and iPhones
Activate iPhones quickly using iTunes' activation-only mode
Set up iPads and iPhones automatically using iPhone Configuration Utility
Set up Wi-Fi and VPN connections manually or with configuration profiles
Connect iPads and iPhones to Microsoft Exchange and other mail servers
Choose the best third-party apps, install them, and keep them updated
Install custom enterprise apps using provisioning profiles
Load and transfer documents via File Sharing and third-party tools
Give iPad and iPhone users remote access to your network
Manage Windows or Mac OS X servers from your iPad or iPhone
Secure iPads and iPhones with strong passcodes–and wipe their contents remotely if they're stolen
Troubleshoot hardware and software problems
About the Author
Guy Hart-Davis is the author of more than 55 computer books, including Integrating Macs in Windows Networks, Mac OS X System Administration, and How to Do Everything: iPod, iPhone, & iTunes.
Book Details
Paperback: 336 pages
Publisher: McGraw-Hill (December, 2010)
Language: English
ISBN-10: 9780071759069
ISBN-13: 978-0071759069
Download [13.0 MiB]