Introducing Autodesk Maya 2012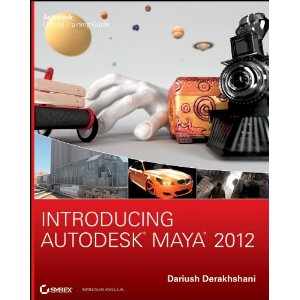 A practical, step-by-step guide to Maya 2012
This book is the ideal primer to getting started with Maya, the premier 3D animation and effects software used in movies, visual effects, games, cartoons, short films, and commercials. You'll learn the Maya interface and the basics of modeling, texturing, animating, and visual effects. Professional visual effects artist and instructor Dariush Derakhshani explains the nuances of the complex software, while creative tutorials offer realistic, professional challenges for those new to 3D. You'll be up and running in no time with the world's most popular professional 3D software application.
Provides a thorough, step-by-step introduction to Maya 2012
Explains the core concepts of CG and working in 3D
Covers modeling, rigging, HDRI lighting, mental ray rendering, and more
Concepts are reinforced with tutorials that offer realistic challenges and clear explanations
Color insert provides real-world examples from talented beginning Maya users
Build your Maya and animation skills from the ground up with this practical, thorough guide.
From the Back Cover
ENTER A NEW DIMENSION WITH MAYA 2012
Maya 3D animation, effects, and compositing software is a top choice for film and video creators, game artists, and 3D design professionals. Now you can learn to build and animate your own digital models and scenes, and begin developing professional-level Maya skills, with Introducing Autodesk Maya 2012.
This new edition of the perennial favorite and bestseller is a perfect introduction to 3D and Maya. Starting with the basics, the book builds from the ground up, combining straightforward text with fun and practical examples to make it easy to learn Maya's core tools. Follow clear, step-by-step lessons while you learn by doing, using the hands-on project files available for download from the Web. The book includes a full-color insert with striking examples from talented new Maya users to inspire you.
Learn CG and 3D core concepts and production workflows
Get a fast, but thorough primer on Maya 2012's user interface
Build a simple animation of the planets in the solar system, right away
Explore the basics of NURBS, polygons, and subdivision surfaces modeling
Create an alien hand, a steam locomotive, a toy wagon, and more
Rig for animation and get the most out of Maya's powerful Graph Editor tool
Master HDRI lighting, mental ray rendering, dynamics, visualization, and effects
Use mental ray Sun & Sky to light a wagon
HDRI lighting increases fidelity
Book Details
Paperback: 648 pages
Publisher: Sybex (May 2011)
Language: English
ISBN-10: 0470900210
ISBN-13: 978-0470900215
Download [78.6 MiB]