Instant PhoneGap Social App Development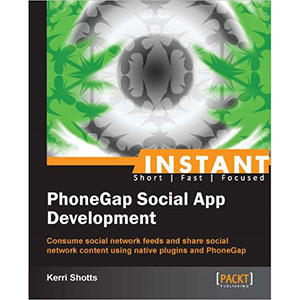 Social media integration in our apps is almost a requirement. Using Phonegap, some plugins, and JSON, we can create an app that consumes Twitter feeds and allows the user to share on Twitter.
"Instant PhoneGap Social App Development" shows you how to create compelling mobile apps that integrate with social media based on Phonegap. The book will show you how to consume Twitter feeds and also share content to Twitter using Twitter Web Intents.
Using code listings and easy steps, this book will guide you through the process of creating a Phonegap app, adding plugins, and using the Twitter API and Twitter's web intents.
You'll learn how to install Phonegap plugins so that you can extend the capabilities of your application. You'll also be introduced to Twitter's JSON API and Twitter's Web Intents which allow the consuming of feed content and the posting of content to Twitter respectively. Along the way, you'll also learn how to create a cross-platform mobile app that works on iOS and Android.
What you will learn from this book
Share using Twitter Web Intents.
Consume feeds using Twitter's JSON API.
Cross-platform mobile app development.
Installation of additional plugins into Phonegap.
Approach
Filled with practical, step-by-step instructions and clear explanations for the most important and useful tasks. Get the job done and learn as you go. This book is concise and follows a clear, step-by-step tutorial approach.
Who this book is written for
You'll need to have a desire to learn about mobile application development. Since Phonegap uses HTML, CSS, and Javascript heavily, it is important to have a good understanding of these topics. You should also have a good understanding of your desired platform and corresponding SDK and IDE (that is, if you want to develop for Android, you should be familiar with Eclipse. For iOS, you need to be familiar with Xcode.).
Book Details
Paperback: 78 pages
Publisher: Packt Publishing (January 2013)
Language: English
ISBN-10: 1849696284
ISBN-13: 978-1849696289
Download [3.9 MiB]