Instant Citrix Security How-to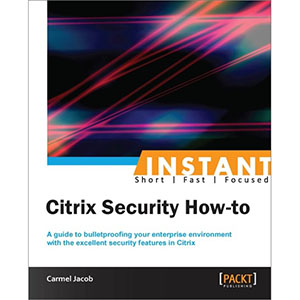 With the rise of cloud computing and virtualization comes a whole new threat to business security. When dealing with highly confidential information you need your security to be bulletproof. This book will help you do that.
"Instant Citrix Security: How-to" will allow you to achieve simplicity in security when dealing with real life examples. This guide will give your systems that extra layer of protection when they need it most. This book could be the difference between secure data and stolen data.
Starting with how to deploy a Citrix Netscaler on DMZ this book presents you with options, their uses, and features that can be enabled. In order to ensure each recipe gives you the most benefit, case studies are included to show you real life implications of your decisions.
This book will guide you through the world of load balancing using both content switching and redirection. We will also discuss load balancing based on geographical location and disaster recovery methods.
The number of features within each module to reduce server load and CPU is astounding and will make your life, the end user, a walk in the park.
What you will learn from this book
Set up Netscaler in DMZ Zone with features such as slow start and external authentication.
Learn about authentication, authorisation, and auditing features.
Learn how to redirect traffic based on the content of traffic hitting the Netscaler as well as advanced features such as modifying the HTTP headers to suit the client needs.
Reduce the number of idle connections to reduce memory and CPU usage.
Prevent DOS attacks, at any level, even at TCP/IP.
Learn about the Application Firewall module.
Control surge and ebb traffic.
Approach
Filled with practical, step-by-step instructions and clear explanations for the most important and useful tasks. Get the job done and learn as you go. A how-To book with practical recipes accompanied with rich screenshots for easy comprehension.This easy-to-follow, hands-on guide shows you how to bolster your security with real life cases and step-by-step instructions.
Who this book is written for
This guide gets new users up and running with Citrix Netscaler in simple practical steps and also acts as a refresher to those with some experience of the product and its features.
Book Details
Paperback: 74 pages
Publisher: Packt Publishing (February 2013)
Language: English
ISBN-10: 1849686726
ISBN-13: 978-1849686723
Download [4.9 MiB]