In-Memory Data Management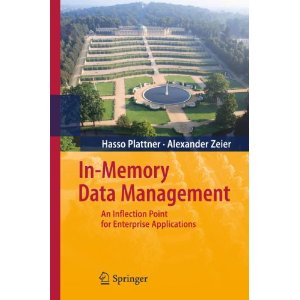 In the last 50 years the world has been completely transformed through the use of IT. We have now reached a new inflection point. Here we present, for the first time, how in-memory computing is changing the way businesses are run. Today, enterprise data is split into separate databases for performance reasons. Analytical data resides in warehouses, synchronized periodically with transactional systems. This separation makes flexible, real-time reporting on current data impossible.
Multi-core CPUs, large main memories, cloud computing and powerful mobile devices are serving as the foundation for the transition of enterprises away from this restrictive model. We describe techniques that allow analytical and transactional processing at the speed of thought and enable new ways of doing business. The book is intended for university students, IT-professionals and IT-managers, but also for senior management who wish to create new business processes by leveraging in-memory computing.
In-memory computing Flexible, real-time reporting on current data Multi-core CPUs, large main memories, cloud computing and powerful mobile devices
Analytical and transactional processing at the speed of thought.
Inflection Point for Enterprise Applications
Table of Contents
Part I: An Inflection Point for Enterprise Applications
Chapter 1. Desirability Feasibility Viability The Impact of InMemory
Chapter 2. Why Are Enterprise Applications So Diverse?
Chapter 3. SanssouciDB Blueprint for an InMemory Enterprise Database System
Part II: SanssouciDB A Single Source of Truth through InMemory
Chapter 4. The Technical Foundations of SanssouciDB
Chapter 5. Organizing and Accessing Data in SanssouciDB
Chapter 7. Finally a Real Business Intelligence System Is at Hand
Chapter 8. Scaling SanssouciDB in the Cloud
Chapter 9. The InMemory Revolution Has Begun
Book Details
Hardcover: 254 pages
Publisher: Springer (March 2011)
Language: English
ISBN-10: 3642193625
ISBN-13: 978-3642193620
Download [2.3 MiB]