Improving the Test Process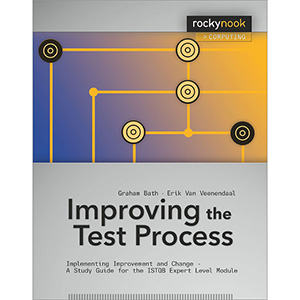 This book covers the syllabus for the Improving the Test Process module of the International Software Testing Qualifications Board (ISTQB) Expert Level exam.
To obtain certification as a professional tester at the Expert Level, candidates may choose to take a course given by an ISTQB accredited training provider and then sit for the exam. Experience shows that many candidates who choose this path still require a reference book that covers the course. There are also many IT professionals who choose self-study as the most appropriate route toward certification.
This book can be used both as a preparation guide for those planning to take the ISTQB Expert Level certification exam and as a practical guide for experienced testing professionals who want to develop their skills in improving test processes.
Table of Contents
Chapter 1. Introduction
Chapter 2. The Context of Improvement
Chapter 3. Model-Based Improvement
Chapter 4. Analytical-Based Improvement
Chapter 5. Selecting Improvement Approaches
Chapter 6. Process for Improvement
Chapter 7. Organization, Roles, and Skills
Chapter 8. Managing Change
Chapter 9. Critical Success Factors
Chapter 10. Adapting to Different Life Cycle Models
Appendix A. Glossary
Appendix B. Literature and References
Appendix C. The Syllabus Parts
Appendix D. The Exam
Appendix E. Summary of Cognitive Levels (K-Levels)
Appendix F. Answers
Book Details
Paperback: 432 pages
Publisher: Rocky Nook (December 2013)
Language: English
ISBN-10: 1933952822
ISBN-13: 978-1933952826
Download [8.8 MiB]