Implementing VMware Horizon View 5.2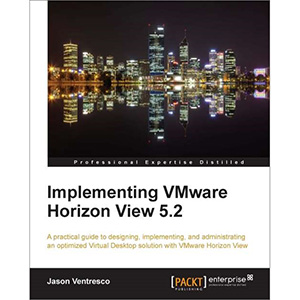 VMware Horizon View helps you simplify desktop and application management while increasing security and control. This book will introduce you to all of the components of the VMware Horizon View suite, walk you through their deployment, and show how they are used. We will also discuss how to assess your virtual desktop resource requirements, and build an optimized virtual desktop.
"Implementing VMware Horizon View 5.2" will provide you the information needed to deploy and administer your own end-user computing infrastructure. This includes not only the View components themselves, but key topics such as assessing virtual desktop resource needs, and how to optimize your virtual desktop master image.
You will learn how to design and deploy a performant, flexible and powerful desktop virtualization solution using VMware Horizon View. You will implement important components and features, such as VMware View Connection Server, VMware View Composer, VMware View Transfer Server, and VMware View Security Server.
"Implementing VMware Horizon View 5.2" will take you through application virtualization with VMware ThinApp, the implementation of Persona Management, and creation of Desktop Pools. We then cover View Client options, Desktop maintenance, and Virtual Desktop Master Image. Finally we discuss View SSL certificates management, Group Policies, PowerCLI, and VMware View Design and Maintenance to help you get the most out of VMware View.
If you want to learn how to design, implement and administrate a complex, optimized desktop virtualization solution with VMware View, then this book is for you.
What you will learn from this book
Assess your Horizon View infrastructure requirements and how to determine your virtual desktop resource requirements
Deploy and administer Horizon View Connection, Security, Transfer, and Composer Servers
Package applications with ThinApp
Implement Horizon View Persona Management
Perform ongoing maintenance of Horizon View desktops
Best techniques to use when creating a virtual desktop master image
Replace the default Horizon View SSL certificates with your own
Customize Horizon View settings using the included group policy templates
Perform administrative tasks using the View PowerShell commandlets
Best practices and tips that will ensure a smooth installation process
Approach
A step-by-step tutorial covering all components of the View Horizon suite in detail, to ensure that you can utilize all features of the platform, and discover all of the possible ways that it can be used within your own environment.
Who this book is for
If you are a newcomer in system administration, and you wish to implement a small to midsized Horizon View environment, then this book is for you. It will also benefit individuals who wish to administrate and manage Horizon View more efficiently or are studying for the VCP5-DT.
Book Details
Paperback: 390 pages
Publisher: Packt Publishing (May 2013)
Language: English
ISBN-10: 184968796X
ISBN-13: 978-1849687966
Download [19.9 MiB]