How to be a Rockstar WordPress Designer 2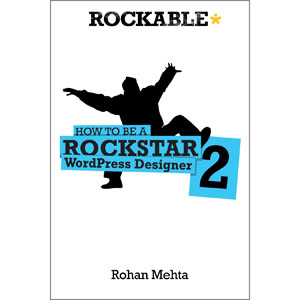 Want to take your WordPress theme designs to the next level? Rockstar WordPress Designer 2 picks up where the original Rockstar WordPress Designer left off and teaches you the advanced tools for WordPress mastery! Rohan Mehta translates his extensive experience as a WordPress developer into a straight-forward, practical guide to advanced WordPress features like custom post types, widgets, and more.
WordPress is arguably the biggest, most prevalent content management system on the market. Earlier this year, WordPress.org reported that the WordPress CMS has been downloaded over 32.5 million times. WordPress today is no longer regarded as just a blogging tool, though that was the reason it was created. Its flexibility and ease of customization has led WordPress to be one of the most popular Content Management Systems (CMS) used in the web design and development industry.
As a web designer or developer, WordPress is one of the most potent tools available at your disposal. WordPress 3.0 brings with it a multitude of new features — the long-awaited Menu Manager and Custom Post Types which expand WordPress' CMS capabilities. In WordPress Rockstar 2, Rohan Mehta teaches you to take advantage of WordPress' more advanced features, including:
Using Metaboxes
Advanced image functions
Custom widgets and option pages
Using shortcodes and custom post types
Internationalization and translation issues
Crafting threaded comments, breadcrumb navigation, and more!
Book Details
Paperback: 150 pages
Publisher: Rockable Press (September 2011)
Language: English
Download [6.6 MiB]