Getting Started with IBM FileNet P8 Content Manager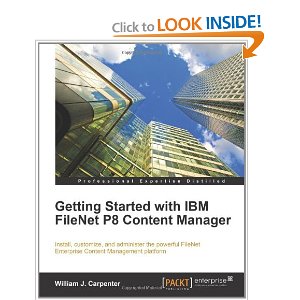 IBM FileNet P8 Content Manager, built on top of the mature FileNet platform, is a complete, world class Enterprise Content Management platform. With its rock solid document management features, tight integration with BPM systems and other components, and rich API set, it is a highly scalable and secure solution to common and uncommon Enterprise Content Management requirements.Written by a FileNet insider, who is an Enterprise Content Management architect and engineer, this book is a straightforward guide to effectively installing, managing, and administering FileNet P8 Content Manager. It emphasizes practical, specific, and hands-on information about features for building Enterprise Content Management solutions. At every step, real-world tips and important information are called out to save you time and trouble when building customized solutions.
Beginning with an overview of Enterprise Content Management, the book moves quickly to the matter of getting a real Content Manager system up and running. You learn key Content Manager applications that are demonstrated to show you the major concepts that matter you as a developer, administrator, or as an end user. There are separate chapters that describe major platform features, security-related features, and integrations with other commonly used software components. A realistic sample application, designed right in front of you unfolds the genius in IBM Filenet P8 Content Manager. Finally, you take an in-depth look at troubleshooting, support sites, and online resources to help meet your security needs.
Master the ins and outs of the FileNet P8 platform, easily.
What you will learn from this book
Install IBM FileNet P8 Content Manager along with its supporting components and pre-requisites
Configure the Content Manager components to make them work in unison
Learn the building-block features and uses of Content Manager and related components
Master FileNet Enterprise Manager (FEM), the administrator's tool, to learn the Content Manager features
Perform various tasks in Workplace XT, one of the stand-alone, end-user applications provided with Content Manager
Explore authentication, authorization, and other security mechanisms to meet your security needs
Plan and deploy the components of an Enterprise Content Management platform to a real-world environment
See how a custom application is designed and created using Content Manager APIs
Approach
The book is written in a straightforward style and avoids sales and marketing hype. William J. Carpenter is an Enterprise Content Management architect at IBM who spends every day doing product development and helping others make the best use of the Content Manager product. The numerous tips and notes arise from his years of practical experience with FileNet products.
Most of the book consists of specific recipes for installing and using Content Manager, and it also provides you with clear and precise explanations of the most important features and components. It is written in a conversational style without being "dumbed down", and the book can be read straight through, from cover to cover. It emphasizes the things you need to know, presented in a logical progression.
Who this book is written for
If you are a CIO, an IT manager, an IT staff engineer, or perhaps a business leader, business analyst, or even an end user who wants to better understand the role that Content Manager plays in your enterprise, irrespective of any previous knowledge of IBM FileNet P8 Content Manager or Enterprise Content Management in general, then this book is a must have for you.
And if you are someone who is just starting to work with Content Manager or who is facing a decision about whether to use Content Manager or another solution, be assured you will not find a better guide. Even if you have years of experience, you can still enrich your knowledge with the clear, practical explanations of basic and advanced features. Although it is not a developer's guide, per se, the API and sample application will help you as an enterprise developer or architect to get your bearings in Content Manager technologies.
Book Details
Paperback: 452 pages
Publisher: Packt Publishing (February, 2011)
Language: English
ISBN-10: 1849680701
ISBN-13: 978-1849680707
Download [10.2 MiB]