Getting Started with SQL Server 2012 Cube Development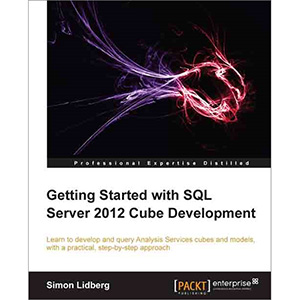 Analysis Services have been the number one OLAP engine for years. With the increased focus on business intelligence solutions, there is a shortage of professionals in this area. Start your journey into becoming a BI developer using the popular tools included in every SQL Server installation.
Getting Started with SQL Server 2012 Cube Development teaches you through clear step-by-step exercises to create business intelligence solutions using Analysis Services. The knowledge gained through these practical examples can immediately be applied to your real-world problems.
Getting Started with SQL Server 2012 Cube Development begins with an introduction to business intelligence and Analysis Services, the world's most-used cube engine. Guiding you through easy-to-understand examples to become a cube developer.
Learn how to create a cube including all the advanced features such as KPIs, calculated measures, and time intelligence. Security and performance tuning will also be explored. You will learn how to perform and automate core tasks like deployment and processing. The main focus is on multidimensional cubes, but the creation of in-memory models will also be covered.
You will learn everything you need to get started with cube development using SQL Server 2012.
What you will learn from this book
Choose the correct model for solving your business problem
Set up Analysis Services and the development environment
Create user friendly dimensions and cubes
Automate cube processing and deployment
Query cubes using standard tools like Excel and Reporting Services
Add advanced functionality such as KPIs and calculations
Secure your business intelligence solutions
Performance tune your cube through the use of aggregations
Create tabular in-memory models
Understand business intelligence architecture
Approach
As a practical tutorial for Analysis Services, get started with developing cubes. "Getting Started with SQL Server 2012 Cube Development" walks you through the basics, working with SSAS to build cubes and get them up and running.
Who this book is written for
Written for SQL Server developers who have not previously worked with Analysis Services. It is assumed that you have experience with relational databases, but no prior knowledge of cube development is required. You need SQL Server 2012 in order to follow along with the exercises in this book.
Book Details
Paperback: 288 pages
Publisher: Packt Publishing (September 2013)
Language: English
ISBN-10: 1849689504
ISBN-13: 978-1849689502
Download [25.3 MiB]