Getting Started with OrientDB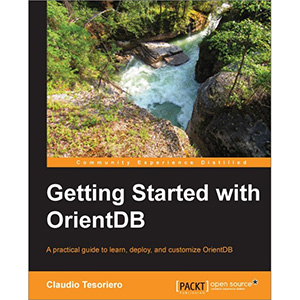 In modern software applications, often there is the necessity to manage very big amounts of unstructured data with varying schema. In this scenario, instead of relational databases, we can use OrientDB, an open source NoSQL DBMS written in Java. Inspite ofDespite being a document-based database, the relationships are managed with direct connections between records. It supports schema-less, schema-full, and schema-mixed modes.
Getting Started with OrientDB will be your handy, quick reference guide, for all document-graph DBMS functionality. Administrative tasks, deployment, designing a database, different ways of querying and consuming data – all that you need to know about OrientDB is presented keeping with practical usage in mind. You will be able to install, setup, deploy, and configure databases with OrientDB for applications.
Getting Started with OrientDB will allow you to use its OreintDB's main functionality immediately. The book will guide you through the discovery of one of the most powerful NoSQL databases available today. It will then take you through downloading and installing OrientDB, cluster deployment, programming, discovering OrientDB's potential, and its features.
The book covers useful administrative topics such as import/export, automatic backups, and configuration tips. Furthermore, design concepts like user management, document databases, graph databases, and dictionaries are covered. Finally, concepts and programming examples are shown in Java.
What you will learn from this book
Build up from source code and run the test suite
Learn and choose the right kind of database supported by OrientDB
Know Learn more about OrientDB internal architecture, security, user management, classes, and clusters
Use the command line console and the embedded web console tools
Use the Nnative Java API to connect and interact with an OrientDB server and use SQL-like language
Understand performance tuning and improve performance
Embed the OrientDB core in your own Java project
Write custom code and set up a cluster of OrientDB servers
Approach
A standard tutorial aimed at making you an OrientDB expert, through the use of practical examples, explained in a step-by-step format.
Who this book is written for
Getting Started with OrientDB is great for database designers, developers, and systems engineers. It is assumed that you are familiar with NoSQL concepts, Java, and networking principles.
Book Details
Paperback: 138 pages
Publisher: Packt Publishing (August 2013)
Language: English
ISBN-10: 1782169954
ISBN-13: 978-1782169956
Download [3.1 MiB]