Getting Started with DraftSight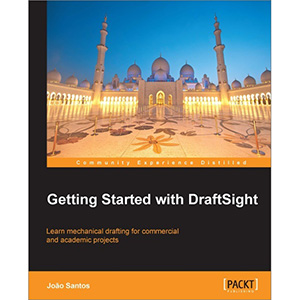 Computer-aided design (CAD) uses computer systems to assist in the creation, modification, and analysis of a design. DraftSight is a 2D computer-aided design (CAD) software application. DraftSight includes all the main tools to draft with precision, and it works with DWG files, the most popular CAD file type. It runs on a wide variety of operating systems, including Windows, Mac, and Linux.
Getting Started with DraftSight addresses all the main phases for executing and printing a mechanical project. These concepts and commands can easily be applied to other areas. Beginning with the very basic concepts, and going through all the necessary drawing steps, you will finish by printing a full scale mechanical drawing. The illustrative examples will help you understand the design process and teach you how to utilize DraftSight features in your mechanical design projects.
You will start with an overview of the mechanical design process, which will help you understand the different commands, tools, and tasks involved in DraftSight projects. You will then proceed to executing all the phases of the design process. This includes setting up a drawing, drawing and editing with precision, organizing with layers, and finally obtaining valid information from the drawing. Furthermore, you will also learn to apply fills, patterns, and dimensions, and the process of defining and printing sheets.
With "GettingStarted with DraftSight" you will learn how to specify and document parts and print drawings with the help of DraftSight. Towards the end of this book you will be introduced to some advanced concepts like additional layer commands, and methods to reference other drawings or images, which can be very useful when dealing with complex projects.
What you will learn from this book
Download and get started with DraftSight
Create drawing entities with precision
Structure projects and follow standards
Build simple and complex projects
Create and apply components (blocks)
Apply fills and regular patterns
Dimension mechanical drawings
Define printing sheets and print efficiently
Reference other drawings and images
Approach
Packed with illustrations and step-by-step guidelines, this book will serve as a guide for DraftSight and get you up and running with it!
Who this book is written for
Getting Started with DraftSight is for anyone who wants to create accurate 2D drawings in the DWG file format. It is also a great resource for architectural, engineering, or design professionals and students. The reader needs to have basic knowledge of CAD.
Book Details
Paperback: 180 pages
Publisher: Packt Publishing (August 2013)
Language: English
ISBN-10: 1782160248
ISBN-13: 978-1782160243
Download [9.3 MiB]