Getting Started with Citrix® CloudPortal™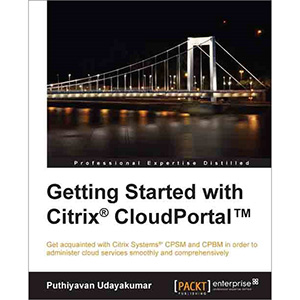 Cloud computing is emerging as a hot technology, thereby creating a lot of new jobs, and providing a lot of opportunities for IT service providers to run and manage clouds. Citrix CloudPortal Business Manager enables cloud builders to manage and deliver any cloud or IT service through a single, comprehensive cloud services platform which unifies and simplifies the commercial, user management, service provisioning, and operational aspects of running a cloud.
Getting Started with Citrix CloudPortal is a hands-on guide that will help you to learn the installation, configuration, deploying services, managing, and operating of Citrix CloudPortal. It will also help you to take advantage of the real power that is behind CPSM and CPBM and give you a good grounding in operating it in your own enterprises. The book is structured with practical implementations, which are all fully backed up with code and illustrations.
Getting Started with Citrix CloudPortal will make you aware of the cloud and its implications, starting with aspects of the cloud such as renting, self-service, and the provisioning of services to cloud tenants and their customers. You will also learn how to deploy services on your own using CPSM and CPBM, detailed steps of VM provisioning, setting up a cloud user profile, setting up a catalog, CPBM product management, workflow management, cloud billing, and cloud pricing management. If you want to take advantage of using the new Citrix CPBM and CPSM, then this is the book for you to upgrade your skills.
What you will learn from this book
Get an overview of Citrix CloudPortal
Install CPSM using the GUI and command line interface, and on centOS
Configure CPSM and CPBM
Deploy services using CPSM (VM, Hosted Exchange Provisioning)
Manage CPSM topographies
Operate CPBM topographies
Provision a CPSM service to cloud consumers
Add and modify users and profiles
Approach
The book will follow a step-by-step, tutorial-based approach and show readers how to take advantage of Citrix CloudPortal's capabilities.
Who this book is written for
This book is ideal for administrators and engineers new to the Citrix Cloud Solution CPSM, CPBM, and who are looking to get a good grounding in Citrix's new product. It's assumed that you will have some experience in the basics of cloud computing already. No prior knowledge of CloudPortal is expected.
Book Details
Paperback: 128 pages
Publisher: Packt Publishing (October 2013)
Language: English
ISBN-10: 1782176829
ISBN-13: 978-1782176824
Download [2.2 MiB]