Get Bold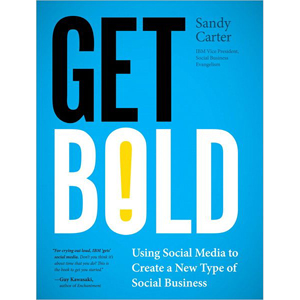 "For crying out loud, IBM 'gets' social media. Don't you think it's about time that you do? This is the book to get you started."
–Guy Kawasaki, author of Enchantment
"Get Bold is…a book to be embraced, studied, and implemented."
–Jeffrey Gitomer, author of The Little Red Book of Selling and Social BOOM!
With Forewords by Charlene Li, author of Open Leadership, and Mike Rhodin, Sr. Vice President, IBM SWG Solutions
How to Drive Maximum Business Value from Social Media!
From Sandy Carter, one of the leaders of IBM's groundbreaking Social Business initiative
A complete framework, practical examples, and expert guidance for executing on YOUR Social Business AGENDA:
Align organizational goals and culture
Gain social trust
Engage through experiences
Network your business processes
Design for reputation and risk management
Analyze your data
…and win!
Using social media, tools, and techniques, you can build a profound Social Business: one that is more dynamic, collaborative, efficient, and customer-driven–and far more successful. To capitalize on this monumental opportunity, however, you must deeply infuse the techniques and ethos of social collaboration throughout your organization.
In Get Bold, IBM social media pioneer Sandy Carter presents a comprehensive framework for transforming your business into a winning Social Business. Carter's proven six-step AGENDA addresses goals, culture, governance, listening, trust, engagement, experience, processes, reputation/risk management, analytics, and even globalization.
Packed with detailed workstreams, expert guidance, and real case studies, Get Bold can help you radically improve the way you operate–in areas ranging from innovation to cost reduction, customer relationships to talent management.
Identify the transformations needed to become a Social Business
More fully leverage internal and external networks you already have
Engage customers with "integrated, interactive, and identifying" experiences
Use social techniques to streamline, extend, and improve your processes
Manage the risks of deeper connections with clients and employees
Analyze and socialize data to discover what's happening and predict what's coming
Book Details
Paperback: 288 pages
Publisher: IBM Press (September 2011)
Language: English
ISBN-10: 0132618311
ISBN-13: 978-0132618311
Download [7.1 MiB]