Genes, Chromosomes, and Disease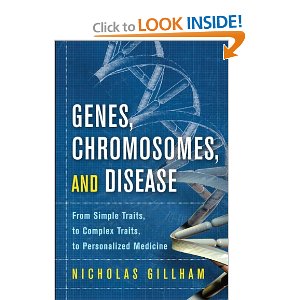 This readable overview covers the rise of medical genetics through the past century, and the eugenic impulses it has inspired. Nicholas Gillham reviews the linkages between genes and disease; ethnic groups' differential susceptibility to genetic traits and disorders; personalized medicine; and crucial social and ethical issues arising from the field's progress.
From the Back Cover
100+ Years of Medical Genetics: An Authoritative History in Social and Ethical Context
This is an exceptionally readable overview of the rise and transformations of medical genetics throughout the past century. It thoroughly reviews the field, summarizes current scientific understanding, and encourages readers to seriously reflect on the ethical and social implications. Gillham explains
How genetic diseases arise and why some ethnic groups are more susceptible to specific disorders
How scientists are trying to identify the genetic factors underlying multifaceted conditions like diabetes and heart disease
The value and limitations of genetic information in prevention, treatment, and cure
The complex, subtle interrelationships between genes and cancer
What science knows–and doesn't know–about genetics and human behavior
The fraught, controversial history of attempts to link genes with intelligence
Gene therapy: what's worked and what hasn't
The potential and profound implications of personalized medicine
Extensive references are provided, along with a complete glossary.
Book Details
Hardcover: 352 pages
Publisher: FT Press (March 2011)
Language: English
ISBN-10: 0137075448
ISBN-13: 978-0137075447
Download [5.4 MiB]