GateIn Cookbook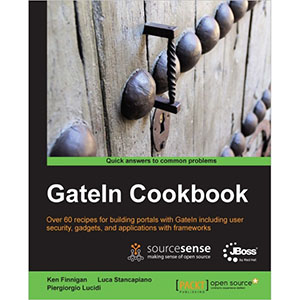 Enterprise Content Management is an increasingly important need for enterprises and organizations. GateIn will provide the solution to effectively manage documents and resources. GateIn is a complete open source ECM portal for companies' needs.
The "GateIn Cookbook" provides the solution whether you're planning to develop a new GateIn portal, migrate a portal, or only need to answer a specific query, these recipes are perfect for any situation. It is filled with bite size recipes for quick and easy problem resolution. Beginning to end it will guide you through the process of configuring and securing a portal, managing content and resources, and developing portlets for it.
Beginning with installation and configuration, the book swiftly moves on to discussing content, users, and security. The second half covers all the aspects of developing on a portal such as portlets, gadgets, migration, and integration
The goal of the book is to show GateIn as a portlet container and ECM system piece by piece. Starting with simple recipes, you will see all details analyzed with code examples and images, you will then progress to advanced recipes.
The "GateIn Cookbook" will help you with a quick approach to writing portal windows.
What will you learn from this book
Learn the installation and configuration of GateIn with various application servers
Manage the contents, themes, navigation, pages and all documents on the portal through the UI or XML files
Integrate your existing user management, such as LDAP, into the portal for authentication and authorization
Discover how the localization of portlets works in GateIn
Pass events and messages between portlets in the portal, irrespective of how they are deployed
Modify page names and portal structure through the Management Component command line
Integrate and manage the Google gadgets in your portal
Approach
The cookbook style is a series of practical recipes which represent solutions to problems and popular activities in a concise but detailed manner.
Who this book is written for
Portal Developers will need an introductory understanding of portals and portlets, and how they work together to create pages of cohesive content as ECMs, to make the most of this book. Some Java experience is assumed.
Book Details
Paperback: 392 pages
Publisher: Packt Publishing (November 2012)
Language: English
ISBN-10: 1849518629
ISBN-13: 978-1849518628
Download [13.4 MiB]