FreeSWITCH 1.2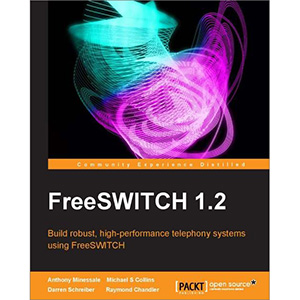 FreeSWITCH is an open source telephony platform designed to facilitate the creation of voice and chat-driven products, scaling from a soft-phone to a PBX and even up to an enterprise-class soft-switch. It is always exciting to design and build your own telephony system to suit your needs, but the task is time-consuming and involves a lot of technical skill.
"FreeSWITCH 1.2" comes to your rescue to help you set up a telephony system quickly and securely using FreeSWITCH. It is rich with practical examples and will give you all of the information and skills needed to implement your own PBX system.
You will start with a detailed description of the FreeSWITCH system architecture. Thereafter you will receive step-by-step instructions on how to set up basic and advanced features for your telephony platform.
The book begins by introducing the architecture and workings of FreeSWITCH before detailing how to plan a telephone system and then moves on to the installation, configuration, and management of a feature-packed PBX. You will learn about maintaining a user directory, XML dial plan, and advanced dial plan concepts, call routing, and the extremely powerful Event Socket. You will finally learn about the online community and history of FreeSWITCH.
"FreeSWITCH 1.2" is an indispensable tool for novice and expert alike.
What you will learn from this book

Set up a basic system to make and receive phone calls, make calls between extensions, and utilize basic PBX functionality
Deploy different features of this telephony system with best practices and expert tips
Understand the inner workings and architecture of FreeSWITCH
Use advanced features to create powerful dialplans
Overcome frustrating NAT issues
Control FreeSWITCH remotely with the powerful event socket
Create web-controlled telephony apps with the new HTTAPI system
Secure your VoIP communications
Approach
This book is full of practical code examples aimed at a beginner to ease his or her learning curve.
Who this book is for
This book is written for IT professionals and enthusiasts who are interested in quickly getting a powerful telephony system up and running using the free and open source application, FreeSWITCH.
Telephony experience will be helpful, but not required.
Book Details
Paperback: 428 pages
Publisher: Packt Publishing (May 2013)
Language: English
ISBN-10: 1782161007
ISBN-13: 978-1782161004
Download [7.4 MiB]