Flash CS6: The Missing Manual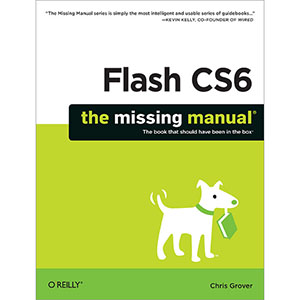 You can build everything from simple animations to full-fledged iPhone, iPad, and Android apps with Flash CS6, but learning this complex program can be difficult—unless you have this fully updated, bestselling guide. Learn how to create gorgeous Flash effects even if you have no programming experience. With Flash CS6: The Missing Manual, you'll move from the basics to power-user tools with ease.
The important stuff you need to know:
Learn animation basics. Turn simple ideas into stunning animations—in the very first chapter.
Master Flash's tools. Learn the animation and effects tools with clear explanations and hands-on examples.
Use 3D effects. Rotate objects and make them move in three dimensions.
Create lifelike motion. Use the IK Bones tool to simulate realistic body movements and other linked motions.
Build apps that work anywhere. Create apps just for iOS or Android devices—or one app that works on mobile devices and desktops.
Add multimedia. Incorporate your own audio and video files into Flash.
Create rich interactive animations. Dive into advanced interactivity with easy-to-learn ActionScript examples.
Table of Contents
Part I: Creating a Flash Animation
Chapter 1. Getting Around Flash
Chapter 2. Creating Simple Drawings
Chapter 3. Animate Your Art
Part II: Advanced Drawing and Animation
Chapter 4. Organizing Frames and Layers
Chapter 5. Advanced Drawing and Coloring
Chapter 6. Choosing and Formatting Text
Chapter 7. Reusable Flash: Symbols and Templates
Chapter 8. Advanced Tweens with the Motion Editor
Chapter 9. Realistic Animation with IK Bones
Chapter 10. Incorporating Non-Flash Media Files
Chapter 11. Incorporating Sound and Video
Part III: Adding Interactivity
Chapter 12. Introduction to ActionScript 3.0
Chapter 13. Controlling Actions with Events
Chapter 14. Organizing Objects with the Display List
Chapter 15. Controlling the Timeline and Animation
Chapter 16. Components for Interactivity
Chapter 17. Choosing, Using, and Animating Text
Chapter 18. Drawing with ActionScript
Part IV: Debugging and Delivering Your Animation
Chapter 19. Testing and Debugging Your Animation
Chapter 20. Publishing and Exporting
Chapter 21. Introducing Adobe AIR
Chapter 22. Making iPhone Apps
Chapter 23. Building Android Apps
Part V: Appendixes
Appendix A. Installation and Help
Appendix B. Flash Professional CS6, Menu by Menu
Book Details
Paperback: 848 pages
Publisher: O'Reilly Media / Pogue Press (June 2012)
Language: English
ISBN-10: 1449316255
ISBN-13: 978-1449316259
Download [70.0 MiB]