Five Stars: Putting Online Reviews to Work for Your Business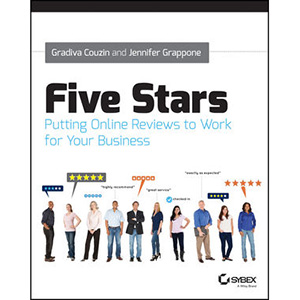 Create positive visibility for your business with this essential roadmap
Everyone now understands the importance of online reviews on sites such as Yelp. This unique book helps you influence the process and leverage the results to increase sales and revenue. Five Stars is the perfect guide to a timely and crucial marketing tactic for today's savvy small business owners and marketers. Find out how to get more (and better) online reviews for your business, track and monitor them, leverage them effectively in social media and elsewhere, and handle negative reviews with aplomb.
Packed with tools, techniques, and great case studies, this practical book is what you need to grab the reins, shape the online conversation, and get reviews that sell.
Shows you how to get and leverage online reviews from websites such as Yelp and niche sites related to your business
Explains tools, techniques, and tactics you can use to start shaping conversations and building positive visibility
Demystifies a complex topic, empowering you to make the most of this valuable marketing tactic
Written by the expert author team of the popular and practical SEO_An Hour a Day books; the authors offer a similar task-based approach to help you succeed
If you're a retail, service, or e-commerce marketer, you won't want to miss Five Stars: Putting Online Reviews to Work for Your Business.
Table of Contents
Chapter 1. You Are Here. Understanding Your Opportunity
Chapter 2. The Online Reviews Landscape
Chapter 3. Understanding Reviewers and Reviews
Chapter 4. Monitoring and Learning from Your Reviews
Chapter 5. How to Get More Reviews
Chapter 6. Review Venues: Need-to-Know Tips for Your Action Plan
Chapter 7. Navigating Negative Reviews
Chapter 8. Showing Off and Being Found
Chapter 9. Maintaining Your Momentum
Book Details
Paperback: 312 pages
Publisher: Sybex (January 2014)
Language: English
ISBN-10: 1118689445
ISBN-13: 978-1118689448
Download [28.2 MiB]