Fearless Flash: Use Adobe InDesign CS5 and the Tools You Already Know to Create Engaging Web Documents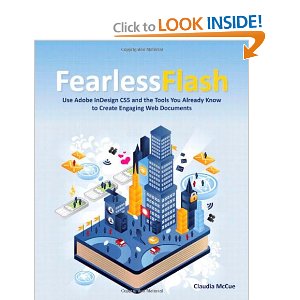 InDesign CS5 opens the door to a new world: with the addition of exciting animation tools and deeper multimedia support. It's now a viable interactive authoring tool. Designers want to create engaging interactive content, but may resist making the transition from page layout to timeline-based thinking. But now it's much easier: InDesign CS5's new interactive features are intuitive and easy to learn. And once they've mastered those tools in the familiar world of InDesign, they'll find that Flash isn't scary after all. Designers already know how to add text, graphics, and geometric shapes to a page in InDesign, it's a short walk to adding interactive features. Before they know it, they're creating Flash content.
Table of Contents
Intro
Chapter 1: Getting Started
Chapter 2: Basic Interactivity and Navigation
Chapter 3: Multimedia
Chapter 4: Creating Animation
Chapter 5: Buttons and Multi-State Objects
Chapter 6: Flash Catalyst
Chapter 7: Editing in Flash
Chapter 8: Deploying Your Projects
About the Author
Claudia McCue is a prepress pro with more than 20 years of hands-on desktop publishing experience. She is owner of Practicalia, an independent training provider specializing in Adobe products. She is the author of Real World Print Production.
Book Details
Paperback: 240 pages
Publisher: Adobe Press (November, 2010)
Language: English
ISBN-10: 0321734823
ISBN-13: 978-0321734822
Download [9.3 MiB]