Evil by Design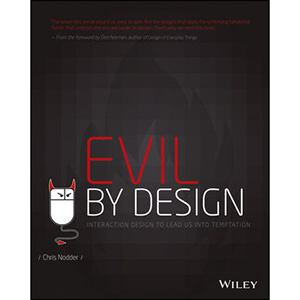 The seven sins are all around us, easy to spot. But the designs that apply the underlying behavioral forces that underpin the sins are harder to discern. That's why we need this book."
— From the foreword by Don Norman, author of Design of Everyday Things
Better read this book before your neighbor goes and pulls a fast one on you. If this appeal to fear isn't enough, then maybe greed will do the trick: any website will make lots of money by following the guidelines in this book, even if you don't go all the way to become truly evil."
— Jakob Nielsen, author of Designing Web Usability and Mobile Usability
Illuminating, amusing, and a genuine page-turner…this book will give you insight into ways you have been tricked and, even better, give you the tools to persuade others either for evil or, if you really must, for good."
— Bruce "Tog" Tognazzini, Principal, Nielsen Norman Group, mad scientist, and former Apple employee #66
How to make customers feel good about doing what you want
Approaching persuasive design from the dark side, this book melds psychology, marketing, and design concepts to show why we're susceptible to certain persuasive techniques. Packed with examples from every nook and cranny of the web, it provides easily digestible and applicable patterns for putting these design techniques to work. Organized by the seven deadly sins, it includes:
Pride — use social proof to position your product in line with your visitors' values
Sloth — build a path of least resistance that leads users where you want them to go
Gluttony — escalate customers' commitment and use loss aversion to keep them there
Anger — understand the power of metaphysical arguments and anonymity
Envy — create a culture of status around your product and feed aspirational desires
Lust — turn desire into commitment by using emotion to defeat rational behavior
Greed — keep customers engaged by reinforcing the behaviors you desire
Now you too can leverage human fallibility to create powerful persuasive interfaces that people will love to use — but will you use your new knowledge for good or evil? Learn more on the companion website, evilbydesign.info.
Book Details
Paperback: 320 pages
Publisher: Wiley (June 2013)
Language: English
ISBN-10: 1118422147
ISBN-13: 978-1118422144
Download [102.4 MiB]