Effective Time Management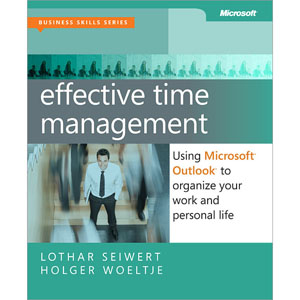 Take charge—and create an effective balance between your work and personal life with the help of Microsoft Outlook. In this practical guide, two experts teach you a proven time-management system, showing you how to set and manage your priorities with custom modifications to Outlook. Sharpen your focus, combat distractions—and manage your time with complete confidence.
Get the skills to take control of your schedule
Organize email in a systematic way and keep your inbox clean
Schedule time for productivity—and defend it against interruptions
Apply Outlook filters to help you manage tasks and projects
Make time for family and fun—plan your work and private lives together
Use Outlook with Microsoft OneNote® to capture ideas and set goals
Learn effective time management techniques with practical examples
About the Author
Lothar Seiwert, PhD, is a leading expert in the field of time and life management, a sought-after speaker and best-selling author. As managing director of the Heidelberg-based Seiwert Institute, Dr. Seiwert specializes in the fields of time management, life leadership and work/life balance. He is a member of the German Speakers Association, the German affiliate of the International Federation for Professional Speakers.
Holger Woeltje is a leading expert in electronic time management. Working internationally with many Fortune 500 companies such as Credit Suisse, Hewlett Packard, Lufthansa, SAP and ThyssenKrupp, he has learned what works. He teaches professional business strategies as well as delivering technology tips, in a humorous manner, packed with stories and real live examples. He'll show you how to use Microsoft Outlook to focus on what matters most, get rid of email clutter, and really increase your productivity! ! You can contact him at his website at www.technoproductivity.com.
Book Details
Paperback: 272 pages
Publisher: Microsoft Press (September 2011)
Language: English
ISBN-10: 0735660042
ISBN-13: 978-0735660045
Download [11.8 MiB]