Drupal for Education and E-Learning, 2nd Edition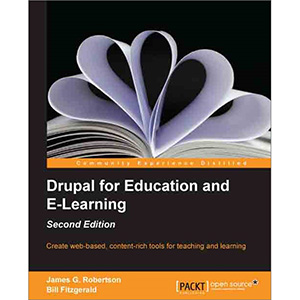 As social networks become more popular, their role in the classroom has come under scrutiny. Drupal offers a wide variety of useful tools for educators. Within a single Drupal site, you can set up social bookmarking, podcasting, video hosting, formal and informal groups, rich user profiles, and other features commonly associated with social web communities.
"Drupal for Education and E-Learning – Second Edition" teaches you how to create your own social networking site to advance teaching and learning goals in the classroom, while giving you complete control over features and access. Communicate with students, share learning resources, and track assignments through simple tasks with this hands-on guide.
In this book you will learn to install and configure the default Drupal distribution and then extend it to include blogs, bookmarks, a media sharing platform, and discussion forums.
The book also covers how to organize your site to easily track student work on the site, and how to control who has access to that information. Additionally, it teaches you how to make the site easy to use, how to maintain the site, and how to ask for and receive help in the Drupal community.
What you will learn from this book
Build an intuitive structure to allow students and teachers to find relevant content by creating blogs for both teachers and students
Create roles and permissions for controlling access to different parts of the site
Share and manage bookmarks, podcasts, images, and video to support teaching and learning
Foster discussion and communication among teachers, students, and also the larger school community to collaborate on projects
Support multiple classes within the same site
Publish assignments for students in your courses, and track student responses to those assignments
Learn to exchange help with the Drupal community
Discover how to backup and maintain your site once it is built
Approach
With clear instructions and plenty of screenshots, this book provides all the support and guidance you will need as you begin to create your classroom website. Step-by-step tutorials show you how to use Drupal in the most efficient and effective ways possible. People new to Drupal will find a good introduction of the basics; while more experienced users will learn useful tips and tricks for using Drupal in a classroom context.
Who this book is for
If you are an teacher, tutor or an educator who wants to build a website for your classroom, be it elementary or any higher education, "Drupal for Education and E-Learning – Second Edition" will guide you in achieving your goal at every step. No experience with programming languages, HTML, or CSS is needed to understand the examples in this book.
Book Details
Paperback: 390 pages
Publisher: Packt Publishing; 2nd Edition (June 2013)
Language: English
ISBN-10: 1782162763
ISBN-13: 978-1782162766
Download [50.9 MiB]