Dreamweaver CC: The Missing Manual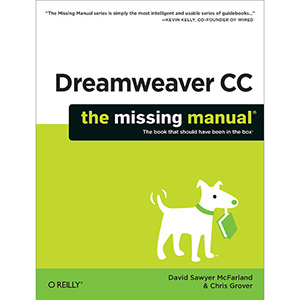 Dreamweaver CC comes packed with features and a new, online-only home, but it still doesn't include a printed guide to working in the cloud or tapping the program's amazing features. That's where this Missing Manual comes in. With its jargon-free explanations and hands-on tutorials, you'll learn how to create every kind of website, from single-purpose static sites to interactive, multimedia-driven web dynamos.
The important stuff you need to know:
Soar in the cloud. Get features like dynamic software updates and foolproof file collaboration.
Get clicking with HTML5. Insert new audio/video tags and more, using convenient one-click menu options.
Improve your form. Quickly add HTML5 form elements like email addresses, web URLs, dates, and search fields.
Design in style. Build beautiful pages with ease, using Dreamweaver's revamped CSS creation and editing tools.
Enrich your characters. Get scores of new type choices with free Adobe-hosted Edge Web Fonts.
Design once, and for all. Use improved fluid-grid layout features to create a responsive design that works across many devices.
Build pages that pop. Use the wildly popular jQuery library and its user-interface toolkit, jQuery UI.
Table of Contents
Part 1: Building a Web Page
Chapter 1. Dreamweaver CC Guided Tour
Chapter 2. Working with Text
Chapter 3. Introducing Cascading Style Sheets
Chapter 4. Links
Chapter 5. Images
Chapter 6. Tables
Chapter 7. HTML Under the Hood
Chapter 8. Find and Replace
Part 2: Building a Better Web Page
Chapter 9. Advanced CSS
Chapter 10. Page Layout
Chapter 11. Troubleshooting CSS
Chapter 12. Designing Websites for Mobile Devices
Part 3: Bringing Your Pages to Life
Chapter 13. Adding Interactivity with jQuery
Chapter 14. Forms
Chapter 15. Adding Sound, Video, and Animation
Part 4: Managing a Website
Chapter 16. Introducing Site Management
Chapter 17. Testing Your Site
Chapter 18. Moving Your Site to the Internet
Part 5: Dreamweaver CC Power
Chapter 19. Snippets and Libraries
Chapter 20. Templates
Chapter 21. Customizing Dreamweaver
Chapter 22. Working with Server-Side Programming
Part 6: Appendixes
Appendix A. Getting Help
Appendix B. Dreamweaver CC, Menu by Menu
Book Details
Paperback: 1008 pages
Publisher: O'Reilly Media (December 2013)
Language: English
ISBN-10: 1449341705
ISBN-13: 978-1449341701
Download [107.9 MiB]