Corona SDK Mobile Game Development: Beginner's Guide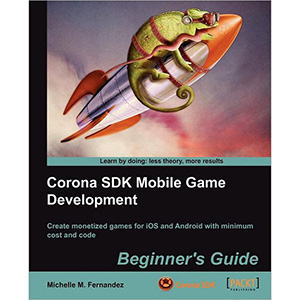 Corona SDK is the fastest and easiest way to create commercially successful cross platform mobile games. Just ask Robert Nay, a 14 year old who created Bubble Ball – downloaded three million times, famously knocking Angry Birds off the top spot. You don't need to be a programming veteran to create games using Corona. Corona SDK is the number one tool for creating fun, simple blockbuster games.
Assuming no experience at all with programming or game development you will learn the basic foundations of Lua and Corona right through to creating several monetized games deployable to Android and Apple stores.
You will begin with a crash course in Lua, the programming language underpinning the Corona SDK tool. After downloading and installing Corona and writing some simple code you will dive straight into game development. You will start by creating a simple breakout game with controls optimized for mobile. You will build on this by creating two more games incorporating different features such as falling physics. The book ends with a tutorial on social network integration, implementing in app purchase and most important of all monetizing and shipping your game to the Android and App stores.
What you will learn from this book
Optimize your game for mobile using touch and accelerometer
Add sound and music to your game
Master game physics such as collision detection
Add achievements and leaderboards with OpenFeint and Game Center
Monetize your game with in app purchase and advertising.
Make your game socially aware by sharing messages and scores on Facebook and Twitter.
Approach
You will learn by doing. First a brief crash course in Lua and Corona. Once this is done you will be thrown straight into creating fully functional complete games chapter by chapter. Certain chapters are reserved for adding advanced features such as multiple device integration, social networking and monetization.
Who this book is for
This book is for anyone who wants to have a go at creating commercially successfully games for Android and iOS. You don't need game development or programming experience.
Book Details
Paperback: 408 pages
Publisher: Packt Publishing (April 2012)
Language: English
ISBN-10: 1849691886
ISBN-13: 978-1849691888
Download [38.7 MiB]